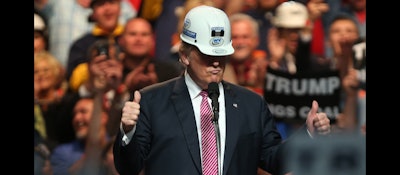 President Donald Trump has been busy during his first weeks in office, making proclamations and signing executive orders that dramatically alter U.S. policies on trade, manufacturing, health care, transportation and the environment. Here's an analysis from our policy team at Grant Thornton on how Trump's actions impact four key areas.
Infrastructure
Manufacturing and transportation companies stand to benefit from pledges by both political parties to repair the nation's crumbling infrastructure. Improving roads, bridges, railways and other public infrastructure is a key policy point for Trump. And Democrats recently dared Trump to make good on his promise by unveiling a $1 trillion infrastructure spending bill in the Senate.
Manufacturers support proposed infrastructure improvements because it could speed the delivery of goods, reduce freight costs, or lower the transportation cost of energy while at the same time bringing new revenue opportunities, said Jeff French, National Managing Partner, Consumer and Industrial Products at Grant Thornton.
"From a supply chain perspective, better ports, roads and bridges means you can move product faster and cheaper. And if you build infrastructure, you need steel and other building products. Manufacturers benefit because that stimulates their business," French said.
The transportation industry heartily endorses any plan that eases the shipment of goods.
"Poor roads and bridges cause huge congestion and eat up the hours of service that truck drivers are allowed on the road," said Randolph Smith, Partner, National Transportation Industry Practice Leader at Grant Thornton.
The transportation industry views Elaine Chao, Trump's nominee for Transportation Secretary, as a pro-business Republican.
Smith is cautious about Trump's plan to fund the infrastructure improvements through public-private partnerships. Details haven't been finalized, but the plan broadly calls for tax credits for private investors in public infrastructure. Public-private infrastructure partnerships historically have been unsuccessful, Smith said. Private funders favor new projects over making repairs. And they often look for a revenue stream, such as tolls for new roads. Democrats have cast doubts on whether public-private partnerships would work.
Manufacturing
Trump's pro-business stance is encouraging to manufacturers, who believe it will result in an easing of regulatory burdens and lower taxes.
To wit, Trump has already signed an executive order to weaken parts of the Affordable Care Act, and ordered the Environmental Protection Agency to freeze all grants to fund environmental education and research.
"The pure number of regulations manufacturers must comply with makes it difficult," French said. "They're looking for relief. The Obama Administration implemented significantly more labor rules and regulations than the previous administrations. They want the regulations to be consistent but not overly burdensome." High regulatory compliance costs limit the amounts of dollars they can reinvest in their businesses.
Trump also told a group of top corporate executives that he wants to cut the corporate income tax rate from 35 percent to 15 percent. Even if Trump can't hit that lower target, Republicans in Congress have expressed interest in lowering the tax rate to 20 percent, French said.
"It's difficult to know just where the number will fall, but I think there will be some type of tax relief for manufacturers," French said.
Manufacturers also are supportive of Trump's energy policy, which looks to tap into cheaper resources, such as coal, oil, natural gas and nuclear, with less of an emphasis on sustainable energy than pushed by the Obama administration.
"Manufacturers believe we need a better energy policy — to get the best rates possible, you need to use every resource," French said.
Trump will likely expand the market for energy exploration. Consider that he recently signed executive orders reviving the Keystone Pipeline project.
"More exploration and new transportation sources take a tremendous amount of equipment, which benefits manufacturers of those products," French said.
But Trump's trade and immigration policies make manufacturers nervous, French said. Trump has repeatedly voiced displeasure at American companies opening operations overseas, and scared Ford and Fiat into canceling or putting on hold plans to build plants in Mexico.
"There are a lot of medium-sized companies with operations in Mexico who are a little concerned right now. They need access to these markets for parts and equipment, and don't quite know how this is going to play out," French said.
Trump's tough stance on immigration also worries manufacturers, who often rely on foreign workers to fill jobs.
"Manufacturers have struggled to find enough skilled people to fill jobs," French said. "Americans aren't taking these jobs. Manufacturers want a balanced immigration policy to find qualified people who can fill those jobs."
Trade
In the belief that foreign countries have taken advantage of our open borders, Trump is talking tough on trade, calling for the end of trade agreements, raising tariffs and taxing foreign imports. Trump already pulled the United States out of the Trans-Pacific Partnership, is threatening to exit the World Trade Organization and wants to renegotiate the North American Free Trade Agreement. Manufacturers generally prefer multiple trade options, French said.
"Manufacturers love to see trade agreements. They want access to markets," he said.
The president also is contemplating a 45 percent tariff on goods coming from China and a 35 percent tariff on Mexican imports, which also makes manufacturers worried. Trump also said he would slap a 35 percent tax on companies that ship jobs overseas.
"If you're an American manufacturer and an importer of products or raw materials, a 35 percent tax on imports would not be favorable," French said.
Transportation companies also are wary of Trump's trade tactics. They have invested heavily in improving sea ports, rail lines and terminals to ship goods across the border from Canada and Mexico and overseas. They don't like Trump's suggestion that a "border tax" be applied to these goods.
For example, Kansas City Southern Railroad has invested heavily in cross-border rail improvements, and has seen its stock fall in recent weeks.
"Companies like Kansas City Southern have grown their cross-border business," Smith said. "But with Trump's recent proclamations, they don't quite know where to place their bets."
Transportation
The trucking industry is particularly optimistic about the new administration because it anticipates Trump will back his pledge to ease regulations. One example is the regulation that trucking companies and their drivers continue to find difficult is the Federal Motor Carrier Safety Administration rule that limits drivers' drive time per day and over a seven-day period. The American Trucking Associations and trucking companies would like to see Trump ease the rules.
"The industry is pretty confident that under the new transportation secretary, there'll be a roll back on that and other regulations," Smith said.
One federal regulation trucking companies doubt will change or be modified is the requirement that all commercial vehicles must be equipped with electronic logging devices, or ELDs. The Federal Motor Carrier Safety Administration has mandated that all motor carriers have the devices installed by Dec. 18, 2017.
"All the major carriers are behind it, and most of the large companies are already compliant," Smith said.
But the ELD mandate also could contribute to a consolidation of the trucking industry and a reduction in capacity, Smith said. With 97 percent of the trucking industry is made up of carriers with 20 vehicles or less, some small trucking companies may choose to shut down rather than pay the expense of the devices and the cost to comply with the regulation, Smith said.
"Some small carriers will choose to go out of business rather than pay for the devices and comply with the regulation," Smith said.
This could contribute to the general consolidation of the trucking industry, Smith said. Small carriers are already feeling the pressure from Amazon and others to ship goods faster at lower costs. The trend toward using more technology to track shipments will only heighten the pressure.
"Technology is really driving the supply chain," Smith said. "If you're not ahead of the technology curve, you're probably going out of business."
This analysis was originally posted by Grant Thornton here