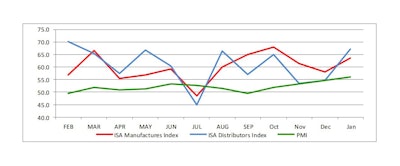 The Industrial Supply Association posted its February Economic Indicator report on Monday, showing a major increase in its Distributor Index and a solid rise in its Manufacturing Index as the Purchasing Managers Index continued to rise.
ISA's Distributors Index had a January reading of 67.2, up a whopping 12.6 points from December. Sequentially, it was the second-largest one-month gain over the past year, and the highest reading in 11 months. Only February's 70.3 was higher over the past year.
ISA's Manufacturing Index checked in at 63.5 in January, up 5.5 points from December, while the PMI rose another 1.3 points in January to 56.0. The PMI — widely regarded as a good indicator of the overall U.S. manufacturing economy — has risen for four straight months since a 12-month low of 49.4 in September.
For all three indexes, a reading above 50 percent indicates expansion, while a reading below 50 indicates contraction.
January's readings indicate rapid expansion for distributors and healthy growth for manufacturers, while the overall manufaacturing economy continues to improve, starting 2017 on a strong note.
ISA Distributor members' largest indicated growth factors in January were New Orders (26.0 in December to 55.4 in January), Business Activity (34.4 to 55.4), Sales Revenue (26.0 to 46.4), Anticipated Business Conditions (56.0 to 62.5) and Anticipated New Orders (56.0 to 67.9).
Anonymous Distributor Comments in ISA's January Economic Indicator Report included the following:
"January was still struggling from 2016 Indicators are pointing higher for the first quarter."
"Business conditions are picking up a bit."
"Finally a string of a few good months starting in November. January was awesome. Not sure what to make of it, but February starting off strong too. We will take it!"