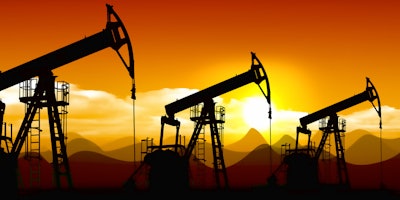 The U.S. active oil and gas rig count continued its rapid climb last week, gaining another 13 rigs as it further closed its year-over-year gap.
Oilfield services company Baker Hughes' Friday report showed that U.S. oil rig count added 12, following a 21-rig gain the week before. The active gas rig count added one. The combined rig count of 637 (including one labeled miscellaneous) is down 72 from a year earlier, an improvement from being down 85 last week. That 637 count has steadily risen 57.7 percent since bottoming out at 404 this past May.
Friday's U.S. oil rig count of 510 is down 31 from a year earlier, while the gas rig count of 126 is down 42.
Texas was last week's big winner again, adding 14 rigs after gaining 17 the week before. New Mexico gained two and Colorado added one. Wyoming and Oklahoma each lost two rigs and North Dakota lost one.
Canada gained four total rigs last week, following a 30-rig gain the week before. Canada gained four gas rigs, one miscellaneous rig and lost one oil rig. Its combined rig count of 234 is up 72 from a year earlier.
Price Update
The price of Brent Crude oil had notable gains last week, climbing as high as $57.89 per barrel on Dec. 12 and closed Friday at $55.21. Brent Crude was at $55.07 as of 9 a.m. CT Monday.