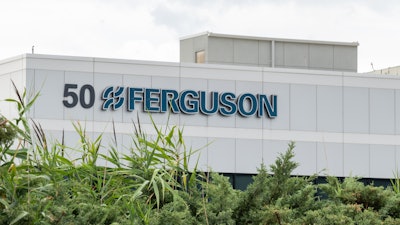 iStock
British plumbing and heating products giant Ferguson said its sales rose by just more than 4% in its recently completed fiscal year.
The company, however, saw other financial metrics slide, and it wrapped up the year with a drop in sales during the final quarter.
For the most recent 12-month window, Ferguson reported $29.7 billion in net sales, up 4.1% from the $28.6 billion posted in the previous fiscal year. But the company's operating profit dropped 1.2% over that span — from $2.8 billion to shy of $2.7 billion — and its gross margin, operating margin, adjusted EBITDA and diluted earnings per share saw declines, as well.
Ferguson — whose North American industrial business came in at no. 16 on ID's newly released Big 50 rankings — characterized its full-year results as "strong," and said that a balanced mix of business helped the company navigate tumultuous economic conditions. Citing a continued "challenging market backdrop," however, the company's initial forecast anticipates that sales will be "broadly flat" over the new fiscal year.
Ferguson also expects a full-year adjusted operating margin of between 9.2% and 9.8% — even with or slightly below the adjusted margin last year.
"Our balanced end market exposure positions us well to leverage emerging multi-year structural tailwinds, such as non-residential megaprojects," Ferguson CEO Kevin Murphy said in a statement. "We remain confident in the strength of our markets over the medium and longer term and expect to capitalize on attractive growth opportunities."
In the most recent quarter, sales declined 1.7% to $7.8 billion, while operating profit fell 4.1% to $782 million. Company officials said acquisitions and an additional sales day helped offset a drop of more than 5% in organic growth year-over-year. Earnings and operating margin also fell during the latest quarter, but gross margin rose by 10 basis points to 30.6%.
The company's net sales in North America declined by 1.7% in the fourth quarter, while adjusted operating profit in the region slipped 4.1%.