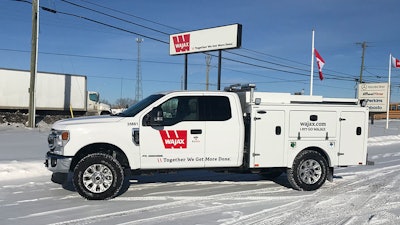 Wajax
Canadian distributor and industrial services provider Wajax on Thursday said sales in its industrial parts operations increased by nearly 16% in its latest fiscal quarter.
The company reported $154.9 million Canadian in sales between April and June, up from $133.9 million Canadian during the second quarter of 2022. At current exchange rates with the U.S. dollar, its quarterly industrial sales would be equivalent to just more than $115 million.
Wajax reported $586.2 million Canadian in overall revenue during the quarter, up 14.7% year-over-year. Its net earnings of $29 million Canadian were up by more than one-third over that span, while adjusted earnings per share increased by more than 37% to $1.26.
Wajax officials said higher commodity prices and sustained capital spending helped bolster its numbers during the latest quarter, along with "strong fundamentals" in construction, mining, energy and other end markets.
"Top-line growth was supported by sustained customer demand across all regions, including continued positive momentum in central Canada," Wajax President and CEO Iggy Domagalski said in a statement. "Solid year-over-year growth in equipment and product support sales was complemented by even greater strength in industrial parts and engineered repair services revenue."
The company said it expects growth in its heavy equipment, industrial parts and engineered repair services segments heading into the second half of the year, despite challenges linked to higher interest rates, inflation, tight labor markets, and supply chain volatility.
Wajax's industrial operations came in at no. 31 on ID's latest Big 50.