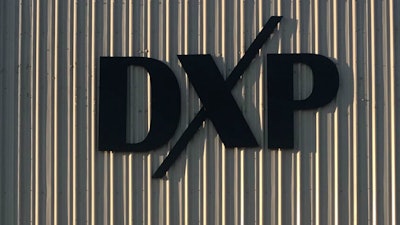 DXP Enterprises Inc.
DXP Enterprises executives said Tuesday that the Houston-based industrial distributor set "new high water marks" for sales and adjusted earnings in its latest quarter.
The company posted $428 million in sales in the second quarter of the year, up 16.4% from the $368 million reported between April and June of 2022. All three of DXP's business segments saw year-over-year increases, led by its service center operations, which accounted for nearly $300 million of its quarterly revenue.
Net income climbed from $14.4 million during the previous second quarter to $19.1 million — an increase of more than 32% — in the latest reporting period, which led earnings per diluted share to increase from $0.74 to $1.06.
Gross profit rose from $104 million to nearly $132 million over that span, and adjusted EBITDA was up by 39%, growing from $32.6 million to $43.5 million.
Through the middle of 2023, DXP said its sales were up by more than 24% compared to the first half of last year.
Kent Yee, the distributor's chief financial officer, noted that the company closed two acquisitions during the latest period and looks forward to "closing more during the second half."
"We continue to experience broad-based demand across our key regions, products and end markets," DXP Chairman and CEO David Little said in a statement.
DXP ranked no. 17 on ID's most recent Big 50.