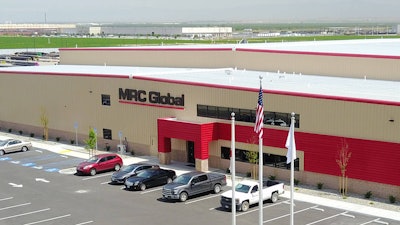 MRC Global Inc.
Energy, utility and industrial product distributor MRC Global on Monday reported higher sales in its latest quarter but lowered its forecast for the full fiscal year.
The Houston-based company — no. 10 on ID's latest Big 50 — said second-quarter sales of $871 million were up 3% compared to the $848 million in sales during the same quarter last year. The company's gross profit also increased year-over-year, from $151 million to $175 million, while operating income climbed from $31 million to $45 million.
Net income jumped from $14 million to $24 million, which translated to diluted earnings per share of $0.21 — more than double the $0.09 per share in last year's April-June window. MRC's adjusted EBITDA, however, fell slightly over that span from $65 million down to $63 million.
Increased sales in the company's production and transmission business and its gas utilities segment offset a decline in its downstream, industrial and energy transition division, but anticipated sluggishness in the utilities division prompted the company to lower its outlook for the remainder of the year.
"We are anticipating lower annual growth in 2023 for our U.S. segment than previously forecast due primarily to a slower ramp-up in our gas utilities sector sales during the current construction season," MRC President and CEO Rob Saltiel said in a statement. "Although the long-term growth fundamentals of this sector remain intact, several key gas utilities customers are currently focused on reducing their product inventory levels over the next few quarters due to more certainty in the supply chain and associated lead times."
The company now expects full-year sales to increase by an "upper single-digit percentage."
MRC reported a backlog of $764 million as of June 30, but 1% compared to the beginning of the quarter.