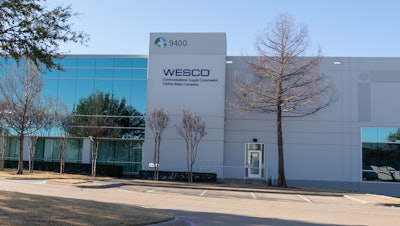 iStock
Wesco on Thursday highlighted a new sales record in its latest fiscal quarter but saw its earnings slide amid what it called "unprecedented supply chain rebalancing" in the electrical industry.
The Pittsburgh-based distribution and supply chain services company said its net sales of $5.7 billion were up 5% compared to the second quarter of 2022, including a 3% increase in organic sales. The company's late 2022 acquisition of Rahi Systems added 2.7% in net sales, while foreign exchange rates dented the overall number by 0.7%.
The company said its communications and utility divisions, in particular, set new records, which offset a decline in its electrical business. Wesco Chairman, President and CEO John Engel said the electrical segment experienced supply chain turmoil and sluggish construction trends.
The company said its net income fell from $221 million in last year's second quarter to $192 million between April and June, which translated to diluted earnings of $3.41 per share — down from $3.95 per share last year. Wesco's overall operating profit dropped nearly 2% over that span to $364 million.
The company reduced its net sales forecast for the full year from the earlier 6%-9% down to 5%-7%, citing continued "market weakness" in certain segments of its electrical business. Wesco also curbed its adjusted EBITDA and EBITDA margin projections.
Engel said the company took steps in June to slash $25 million in costs to address the sluggish electrical segment, which would benefit the broader company's second half of 2023. He also noted that the company reduced inventories and paid down debt during the second quarter, and that lead times for most categories had returned to pre-pandemic levels.
"We remain confident in and focused on the transformational steps we are taking to improve our digital capabilities, capture market share and create value for all our stakeholders," Engel said in a statement. "We continue to invest in our digital transformation plan, and we are working to deliver digital capabilities to benefit our customers and supplier partners that will be game-changing."
Wesco's industrial distribution operations came in at no. 9 on ID's latest Big 50.