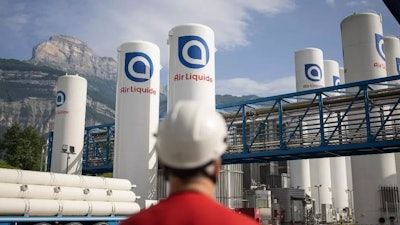 Air Liquide
French industrial gas giant Air Liquide — the parent company of distributor Airgas — said Thursday that its gas and services revenue increased in the first half of the year both in the Americas region and overall.
The company reported nearly $5.7 billion in revenue attributed to its gas and services business in the Americas during the first six months of the year, an increase of 6.7% from the first half of 2022.
The company said its operations in the Americas and in Europe paced its growth during that window, although all regions saw increases over that span. Air Liquide reported $15.4 billion in total revenue, up about 5% year-over-year; global gas and services accounted for the vast majority of that amount at nearly $14.8 billion.
Company officials said its net profit jumped by nearly one-third, and that its strategic plan contributed to efficiencies of some $227 million despite continued price inflation.
"In a complex and changing macroeconomic and geopolitical environment, Air Liquide delivered, in the first half of the year, a very solid performance characterized by sales growth on a comparable basis and a new increase in its operating margin excluding the energy impact," Air Liquide Group CEO François Jackow said in a statement. "This performance highlights the resilience and quality of our business model and is in line with the trajectory of our ADVANCE strategic plan."
Airgas is no. 3 on ID's latest Big 50.