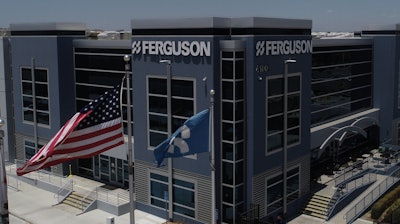 Ferguson
Ferguson on Tuesday posted a slight drop in sales and a 30% decline in profit in its latest quarterly earnings report.
The U.K.-based plumbing distribution giant reported sales of $7.1 billion in the three-month period ending April 30, down 2% from the nearly $7.3 million in the same window last year.
The company's operating profit, meanwhile, fell from $712 million in the previous period to $497 million, a drop of more than 30% year-over-year, although it was off by a more modest 12% on an adjusted basis.
The company's adjusted diluted earnings per share were also down by 12%, while adjusted EBITDA declined by 11.3%; Ferguson's gross margin slid by 30 basis points.
Company officials blamed the sales drop primarily on one fewer selling day in the last quarter and an adverse impact from foreign currency rates, although Ferguson also noted a decline in the residential construction segment and easing inflation in the latest period. The U.S. residential market, in particular, slowed during the quarter.
Ferguson's operating profit drop, meanwhile, stemmed in part from charges related to software upgrades and the closure of 44 branches that the company deemed small and "underperforming."
Ferguson maintained its sales forecast of "low single-digit growth" heading into the final quarter of its fiscal year, and slightly tightened its projections for full-year adjusted operating margin to between 9.4% and 9.8%. The company's North American industrial operations were enough to come in at no. 16 on ID's latest Big 50.