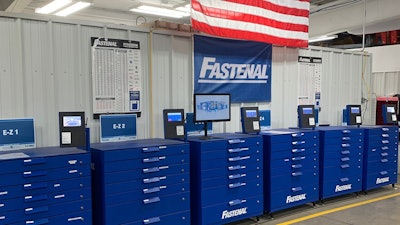 Fastenal
Fastenal on Thursday reported higher sales, profits and earnings in the first quarter of 2023.
The Minnesota-based fastener and industrial supply distributor posted $1.86 billion in sales in the first three months of 2023, an increase of just more than 9% from the $1.7 billion in the same quarter last year.
Gross profit climbed 7.2% to $850 million over that span, while operating income increased nearly 10% to $393 million. Net earnings rose 9.5% to $295 million, which translated to diluted net earnings per share of $0.52 — up 10.4% compared to the previous first quarter.
The totals reportedly exceeded Wall Street projections. Fastenal officials attributed the strong numbers to "broad pricing actions" to mitigate inflation over the past year, as well as strong demand in the industrial capital goods and commodities markets. A 14.4% increase in sales to manufacturers more than offset a 2.4% decline in non-residential construction in the latest quarter.
Fastenal indicated a reduction in the number of branch locations in the past three months but an increase in its overall employee headcount. Fastenal also reported that its "Digital Footprint" operations accounted for a majority of its sales in the first quarter, rising from 47% in the previous window to more than 54%.
"The combination of good demand, more stable cost trends and our long supply chain for imported fasteners and certain non-fastener products produced stable price levels," the company wrote in a statement.
Fastenal — no. 4 on ID's latest Big 50 — also posted its monthly sales report for March on Thursday; net sales were up 6.8% compared to March of 2022 to $676 million.