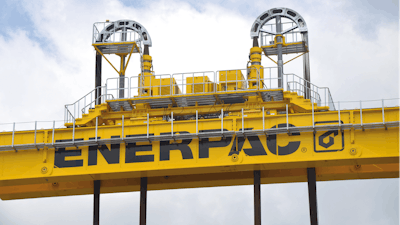 Enerpac
MILWAUKEE — Enerpac Tool Group Corp. on Tuesday announced results for its fiscal second quarter, ended Feb. 28, 2023.
Net sales were $142 million with a 6% year-over-year increase in core sales. GAAP operating margin was 9.8% and adjusted operating margin was 20.2%; Adjusted EBITDA margin was 22.7%, an increase of nearly 1,100 basis points year over year.
The company reported record gross profit margins and adjusted EBITDA margins. GAAP diluted earnings per share was $0.12 and adjusted diluted EPS was $0.35
"Thanks to solid execution by our global team, we delivered strong and encouraging performance in the second quarter. While the second quarter is typically our seasonally weakest quarter, we saw year-over-year core growth in three out of four regions and we achieved record gross profit margins and adjusted EBITDA margins since the launch of Enerpac Tool Group in 2019," said Paul Sternlieb, Enerpac Tool Group's president and CEO. "We continued to execute our growth strategies and made accelerated progress on our ASCEND transformation program."
Sternlieb said that the company now expects "full-year net sales of $580 to $600 million and an adjusted EBITDA range of $118 to $128 million, including an ASCEND EBITDA benefit of $32 to $38 million."