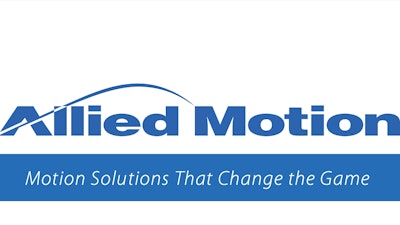 Allied Motion
AMHERST, N.Y. — Allied Motion Technologies Inc., a designer and manufacturer of precision and specialty controlled motion products and solutions for the global market, on Tuesday reported financial results for its fourth quarter and full year ended Dec. 31.
Results include all acquisitions completed during the fourth quarter of 2021 and in the second quarter of 2022.
"Our fourth quarter and full year results were strong and speak to the consistent and focused efforts of the entire Allied team to execute our strategy and deliver strong organic growth and create new growth opportunities through selective acquisitions," said Dick Warzala, chairman and CEO. "The fourth quarter provided several highlights, which included impressive organic growth of 18%, the strengthening of our margin profile, and robust order levels which were broad-based across many of our targeted markets. For the year, we continued to demonstrate our ability to manage our business effectively despite the challenging macro conditions as we crossed a revenue milestone of more than $500 million and achieved our stated goal of gross margin expansion, reaching a record 31.3%.
"While heightened levels of macroeconomic and geopolitical uncertainty remain, we believe we are in a strong position and are confident we can continue to execute our strategy by capitalizing on the many growth opportunities and positive underlying demand trends within our targeted markets. Equally important, we will continue to drive a higher level of continuous improvement in all areas of our business to enable margin expansion and long-term profitability.
Fourth Quarter Results
Revenue increased 35% to $131.1 million and reflected higher demand across each of the company's target markets, as well as incremental sales from acquisitions. Excluding the unfavorable impact of foreign currency exchange rate fluctuations on revenue of $6.7 million, revenue was up 42%, including organic growth of 18.3%. Sales to U.S. customers were 57% of total sales compared with 54% in the same period last year, with the balance of sales to customers primarily in Europe, Canada, and Asia-Pacific.
Full Year Results
Revenue of $503.0 million increased $99.5 million, or 25%, reflecting strong demand in Industrial and Aerospace & Defense markets, including incremental sales from acquisitions. The impact of FX fluctuations was unfavorable by $22.3 million. On a constant currency basis, revenue was up 30% for the year, which included 12.0% organic growth. Sales to U.S. customers were 58% of total sales compared with 54% for 2021, with the balance of sales to customers primarily in Europe, Canada, and Asia-Pacific.
"We entered 2023 with momentum on our side, a record level of backlog, significantly broadened scope of expertise and solutions, and an enhanced value proposition for our customers," Warzala said.