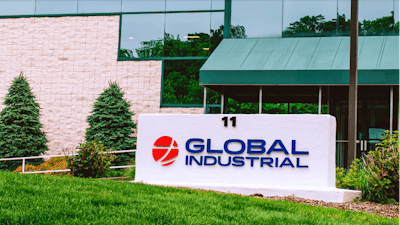 Global Industrial Company saw its sales and profit increase in 2022 despite declines in the final quarter of the year.
The Long Island-based distributor — no. 18 on ID's latest Big 50 — reported full-year sales of $1.17 billion, an increase of 9.7% from the $1.06 billion posted in 2021. The company's gross profit rose from $374 million to $421 million over that span, while operating margin climbed from 8.3% to 9%. Net income per diluted share from continuing operations rose from $1.84 to $2.04, a nearly 11% year-over-year increase.
Global Industrial executives said the year's total revenue, gross margin and operating margin set new records even after they were hurt by a slide over the final three months of 2022. The company's Q4 sales of $260.5 million were off 0.6% compared to the $262 million in the fourth quarter of 2021. Operating income and earnings, however, saw much steeper declines: consolidated operating income fell by more than 32% to $17.7 million, while net income per diluted share slipped by 34%.
Global Industrial CEO Barry Litwin blamed the Q4 results on "economic headwinds" and flatter price and volume comparisons relative to the same period of 2021. Litwin said the company was pleased with its "proactive" management of gross margin in the latest quarter and excited by potential growth opportunities in the current year, including enterprise customers, new vertical markets, and an "innovative and personalized e-commerce experience."
"As we enter 2023, we believe we have a strong game plan and a clear vision for our team to execute on," Litwin said in the company's earnings release. "While uncertainty remains in the economic outlook, we are optimistic and excited by the opportunities we see for growth."