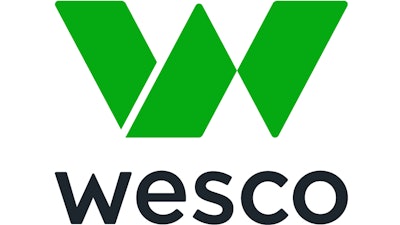 Wesco International announced Tuesday that it set new company records for sales, profit and earnings in 2022.
The Pittsburgh electrical and industrial distribution giant posted full-year net sales of $21.4 billion, up 18% compared to 2021. The past year saw new record highs in operating profit at $1.4 billion, adjusted EBITDA of $1.7 billion — up 47% year-over-year — and diluted earnings per share of $15.33.
Wesco's adjusted EBITDA margin and gross margin also set annual records, and its adjusted earnings per diluted share soared 65% compared to the year prior.
"Wesco delivered a stellar encore performance for the full year 2022, including exceptional fourth quarter results, clearly demonstrating our ability to drive sustained growth and market outperformance," Chairman, President and CEO John Engel said in a statement.
Engel said the final quarter of the year saw strong demand trends, gains in market share, and an easing of supply-chain pressures. The company set a new record with $5.6 billion in net sales in the fourth quarter — up 15% compared to the previous fourth quarter — while operating profit reached $382 million.
Company officials anticipate "mid- to high-single digit sales growth" in 2023 and increasing EBITDA margins, as well as some $600 million to $800 million in free cash flow to support its "growth initiatives and capital allocation priorities." Engel noted that the company's three-year plan following its merger with Anixter is "coming to a close" as its digital transformation accelerates.
"We are building on our strong positive momentum and 2023 is off to an excellent start," Engel said.
Wesco's industrial operations were enough to come in at no. 9 on ID's latest Big 50.