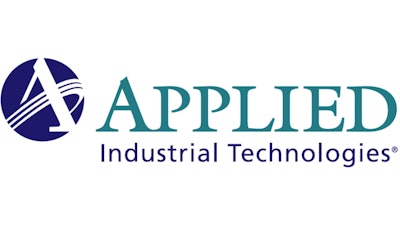 Applied Industrial Technologies said Thursday that sales rose more than 20% while earnings per share jumped more than 40% in its latest fiscal quarter.
The company responded by sharply raising its forecast for the remainder of the year.
Applied's net sales climbed from $877 million in the previous second quarter to $1.1 billion in the latest three-month window. Net income, meanwhile, reached $80.5 million, which equated to earnings of $2.05 per share — up 40.8% year-over-year. The company's quarterly EBITDA of $125.5 million was up more than 35%, and Applied President and CEO Neil Schrimsher said the company set a new record for EBITDA margins.
"The broader U.S. manufacturing environment remained productive during the quarter, and we continue to benefit from our internal sales initiatives, industry position and channel capabilities," Schrimsher said in a statement.
He said the company raised its outlook despite persistent macroeconomic uncertainty and order rates that are "gradually normalizing." Applied now expects full-year earnings per share between $8.10 to $8.50, sales to rise 13% to 15%, and EBITDA margins of 11.5% to 11.7%. Its previous forecast anticipated EPS of $6.90 to $7.55, 5% to 9% higher sales, and 10.9% to 11.2% margins.
"Underlying industrial sector fundamentals within North America remain favorable long term, and we expect ongoing benefits from a more diverse mix of growth tailwinds tied to our channel strategy and business evolution in recent years," Schrimsher said.
The Cleveland-based distributor of motion control, flow control, fluid power and automation products came in at no. 8 on the latest ID Big 50.