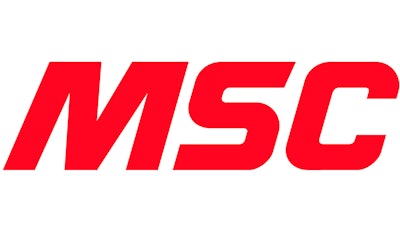 Metalworking and MRO supplier MSC Industrial Supply on Thursday reported a nearly 13% increase in sales in the first quarter of its new fiscal year.
Net sales rose from $849 million in the previous first quarter to $958 million in the three-month window ending Dec. 3. Operating income rose from $91 million to $116 over that span, an increase of nearly 28%, while diluted earnings per share climbed just shy of 23% from $1.18 to $1.45.
MSC's operating margin increased from 10.7% to 12.1%.
Company officials credited continued execution of its five "growth drivers" for the strong quarter, including goals for diversifying its customers and markets, expanding its solutions offerings, leveraging the strength of its portfolio, bolstering e-commerce and solidifying metalworking. MSC said more than 150 metalworking and speciality sales exports are focused on increasing customer productivity.
"I am encouraged by our first quarter performance, which continued our stretch of strong quarterly execution," MSC President and CEO Erik Gershwind said in a statement. "I am also encouraged by the growth trajectory for the company in the midst of a complex operating environment."
The company reaffirmed the full-year guidance issued at the close of its last fiscal year, including a forecast of 5% to 9% average daily sales growth and an adjusted operating margin between 12.7% and 13.3%.
MSC came in at no. 7 on ID's 2022 Big 50.