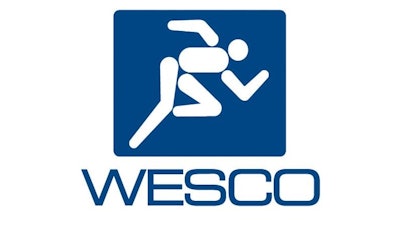 Pittsburgh-based electrical and industrial supplies distributor WESCO International reported its 2021 first quarter financial results on Wednesday, marking the third full fiscal quarter since the company's landmark $4.5 billion acquisition of Anixter International that completed this past June.
That acquisition essentially doubled WESCO's year-over-year sales (+104.3 percent), cost of goods and operating profit, but keep in mind that sequential sales would be a much more reliable barometer of the company's actual performance for this past quarter, summarized below. Q1 2021 had one additional selling day compared to Q4 2020.
WESCO reported total Q1 sales of $4.04 billion, just over double the $1.97 of a year earlier, and down slightly sequentially from $4.13 billion in Q4 2020. The company's Q1 operating profit of $133 million more than doubled the $60.9 million of a year earlier, and gained sequentially from $93 million in Q4. WESCO's Q1 net profit of $59 million gained from $34 million of a year earlier and dwarfed Q4's $20 million.
WESCO's Q1 gross margin of 20.1 percent increased 100 basis points year-over-year and 50 bps sequentially.
"We are seeing positive sales and margin momentum across each of our three global business units," said John Engel, WESCO chairman, president and CEO. "Backlog has reached a new all-time record level, our margin improvement programs are generating results and structural cost takeout has increased our operating leverage. As a result of our strong first quarter results and accelerated synergy realization to start the year, we are raising our full-year 2021 outlook for sales, synergies and profitability."
WESCO now expects full-year 2021 sales to grow 5.8 to 6.1 percent from 2021, up from the 3 to 6 percent growth range provided in the company's Q4 report on Feb. 9.
By WESCO business segment in Q1:
Electrical & Electonic Solutions (EES) sales $1.72 billion increased 54.4 percent year-over-year and up 3.0 percent sequentially. Operating profit of $100 million was up from $43 million a year earlier and down slightly from $105.5 million in Q4. WESCO said that activity in industrial/MRO — which was its own reporting segment through Q3 of last year and has since been absorbed into EES — is improving in-line with industrial recovery.
Communications & Security Solutions (CCS) sales of $1.30 billion were up 459 percent year-over-year and down 5.1 percent sequentially. Q1 operating profit was $74 million.
Utility & Broadband Solutions (UBS) sales of $1.07 billion were up 69.7 percent year-over-year and down 1.8 percent sequentially. Operatingn profit was $87 million.
"We're off to a great start to the year and delivered excellent results across the board that exceeded our expectations," Engel said. "I am very proud of our team and the work that they are doing in executing our integration plan, delivering the synergies, and capturing the value of the transformational combination of WESCO and Anixter. We're outperforming our markets, delivering significant margin expansion, and generating very strong free cash flow."