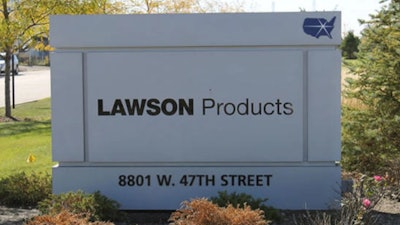 Mike Hockett/Industrial Distribution
MRO products distributor Lawson Products reported 2021 first quarter financial results on Thursday, showing continued improvements in sequential organic sales, while a recent major acquisition powered the company to considerable year-over-year sales growth.
Chicago-based Lawson — No. 31 on Industrial Distribution's Big 50 List — reported Q1 total sales of $104 million, marking the first time in the company's 70-year history that it reached $100 million in quarterly sales. That Q1 figure was up from $98 million in Q4 2020 and up 13.8 percent year-over-year, with daily sales up 15.6 percent year-over-year.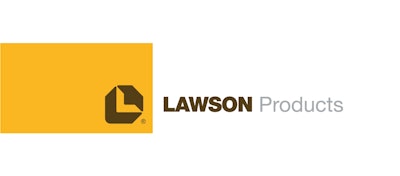 The major increase was largely due to Lawson's $35 million acquisition of Partsmaster last summer, as the Greenville, TX-based company accounted for $15.7 million in Q1 sales. Excluding Partsmaster, Lawson's Q1 average daily sales were down 1.9 percent, though the company noted that sales outside of Partsmaster are currently running at about 96 percent of pre-pandemic levels and continue to strengthen.
Lawson had a Q1 operating profit of $4.8 million, adjusted operating profit of $7.2 million and a net profit of $3.6 million. Gross margin of 52.7 percent declined from 53.7 percent from a year earlier, primarily due to a one-time inventory reserve tied to the Partsmaster acquisition and a write-down on PPE.
"Achieving quarterly sales in excess of $100 million is a milestone for us, and a direct result of our three-part growth strategy of expanding our sales force, improving sales rep productivity and executing on accretive acquisitions," said Michael DeCata, Lawson president and CEO. "All of this was accomplished while gaining cost efficiencies within the business."
"While the pandemic presented us with some challenges, we successfully made a major acquisition, built on our strong financial position, reduced our overall cost structure and continued to re-invest in the business to drive future growth." Decata added. "After we pay the remaining balance due of $33 million for the Partsmaster acquisition in the second quarter, we anticipate that we will have approximately $90 million available under our $100 million committed credit facility to fund growth initiatives and future acquisitions."
WATCH: 5 Minutes With ID: Lawson Products' Trista Jones on Hiring During a Pandemic (published Jan. 18)