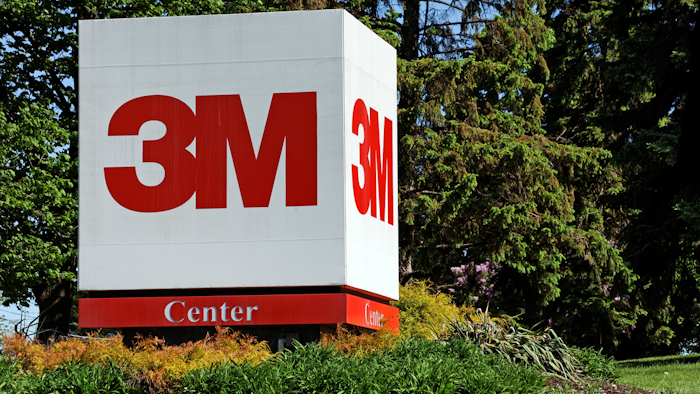 iStock
Manufacturing conglomerate 3M reported its November sales figures on Monday, showing a significant jump in its Safety and Industrial segment following a modest year-over-year gain in October.
The St. Paul, MN-based maker of adhesives, PPE, safety products and Post-It notes said its November Safety and Industrial segments sales were up 16 percent year-over-year, with organic local-currency sales up by that same amount. That followed a 4 percent Safety and Industrial segment gain in October and a 6.9 percent gain in the July-September third quarter. On an organic local-currency basis, November Safety and Industrial segment sales improved 15 percent year-over-year.
Company-wide, 3M's total November sales were $2.9 billion, identical to October. November sales were up 7 percent YoY, with organic sales up by that same amount.
In 3M's other segments during November:
Health Care sales increased 5 percent year-over-year, with organic sales up 7 percent
Consumer sales increased 16 percent year-over-year, with organic sales up 15 percent
Transportation and Electronics increased 3 percent year-over-year, with organic sales up 1 percent
Watch: Two Men Charged With Selling 50 Million Non-Existent N95 Masks
Geographically, 3M's total sales increased 10 percent in EMEA, 9 percent in the Americas and 5 percent in Asia Pacific. Organic sales increased 11 percent in the Americas (13 percent in US), 7 percent in EMEA and were flat in Asia Pacific (up 13 percent in China, down 5 percent in Japan).
3M said that its fourth quarter sales were $5.7 billion covering October-November, adding that, "Although significant macroeconomic uncertainty remains, with one month left in the quarter the company estimates its sales to be in the range of $8.2 to $8.4 billion for the fourth quarter."
The November sales report came 11 days after 3M announced that it is accelerating previously-announced reorganizational actions that will impact 2,900 jobs.