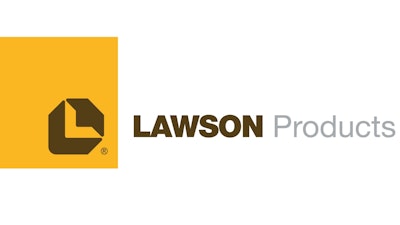 Chicago-based MRO products distributor Lawson Products reported its 2019 third quarter financial results on Thursday, which were led by accelerated year-over-year sales growth compared to the company's previous quarter.
Lawson Products posted Q3 sales of $94.8 million, up 7.1 percent from a year earlier, and outpacing Q2's ($96.1 million) growth of 6.3%. Average daily net sales grew 5.4 percent in Q3 2019, which had one more selling day than the same period a year earlier. The company's Q3 operating profit of $6.4 million was up from a $2.3 million loss a year earlier, while total net profit of $4.8 million improved from a $0.8 million loss a year earlier.
Lawson Products said the Q3 sales growth reflected a 1.3 percent increase in sales rep productivity. The company's recent acquisition of The Bolt Supply House, which represents about 12 percent of consolidated sales, increased 15.0 percent year-over-year, which Lawson said reflected strength across multiple product categories and new customers.
Commenting on the Q3 results, Lawson Products president and CEO Michael DeCata said, "Growth in The Bolt Supply House business, along with targeted investments in the company's operations and sales force, combined with successfully leveraging our infrastructure on higher sales, had a positive impact on our results, with adjusted EBITDA margin increasing to 10.9% of sales."
On Oct. 14, Lawson Products announced that it has entered into a new five-year credit agreement that increases its maximum borrowing capacity from $40 million to $100 million, which provides the company increased capacity for future acquisitions.