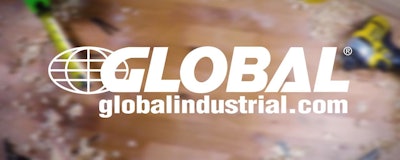 Port Washington, NY-based Systemax reported its 2018 first quarter fiscal results on Tuesday, which showed continued strong results in its industrial products group, which comprised almost entirely by Global Industrial — No. 21 on Industrial Distribution's 2017 Big 50 List.
The Industrial Products Group (IDG) posted Q1 sales of $212.2 million, up 11.6 year-over-year (YoY), with average daily sales up 11.5 percent. Sequentially, Q1 topped Q4 2017's sales of $194.5 million. IDG posted a Q1 operating profit of $16.5 million, compared to $12.5 million a year earlier. Gross profit increased 14.4 percent, while gross margin of 34.2 percent compared with 33.3 percent from a year earlier.
As a whole, Systemax — which along with IDG is comprised of its European Technology Products Group (France) — had total Q1 sales of $355.2 million, up 17.4 percent YoY, while profit of $14.6 million compared with an $18.5 million loss a year earlier. Operating profit of $20.1 million grew from $12.4 million a year earlier, while Q1's gross margin of 27.2 percent ticked up from 27.0 percent a year earlier.
"Industrial revenue grew over 11 percent on a constant currency average daily sales basis with strength in both our core and expanding product categories and across our end markets," Systemax CEO Larry Reinhold said. "Gross and operating margins showed improvement as we increased leverage across our operations and continued to capitalize on our productivity initiatives."