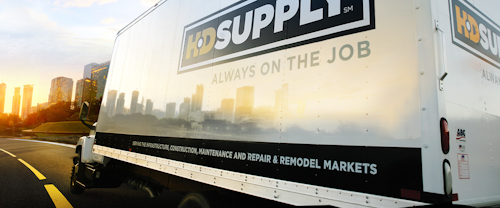 Atlanta-based HD Supply — No. 6 on Industrial Distribution's 2016 Big 50 List — reported its 2016 third quarter fiscal results on Tuesday, highlighted by a modest year-over-year increases in sales, gross profit and operating profit.
The company posted Q3 sales of $2.0 billion — up $66 million, or 3.4 percent — from a year earlier. Gross profit of $683 million was up 5.4 percent, while operating profit of $231 million gained 1.8 percent. Total profit of $60 million was down 76 percent from a year earlier, as Q3 2015 included a $186 million pre-tax gain from HD Supply's Power Solutions divestment and $100 million loss from extinguishing debt.
Sales increased across all three business segments:
Facilities Maintenance Q3 sales of $724 million increased 1.1 percent year-over-year.
Waterworks Q3 sales of $733 million increased 4.0 percent.
Construction & Industrial - White Cap Q3 slaes of $499 million increased 5.7 percent.
HD Supply said its monthly sales performance was as follows:
August - $639 million, with daily sales growth up 2.3 percent year-over-year
September - $603 million, with daily sales growth up 3.7 percent
October - $766 million, with daily sales growth up 4.1 percent
The company said it had preliminary November sales of $526 million, with daily sales growth up 2.3 percent