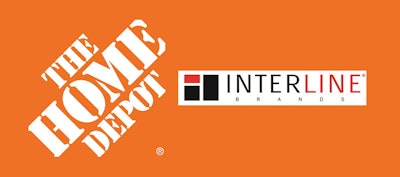 The Home Depot reported its 2016 third quarter fiscal performance figures on Tuesday, which showed a strong quarter for the company and positive commentary about the impact of its 2015 acquisition Interline Brands — No. 18 on Industrial Distribution's Big 50 List.
Home Depot posted Q3 sales of $23.15 billion, up 6.1 percent year-over-year, while a profit of $1.97 billion was up 14.1 percent. Analysts projected sales of $23.04 billion. The company's gross profit of $8.04 billion increased 6.3 percent from a year ago, while operating profit of $3.32 billion increased 11.4 percent.
During Q3, Home Depot recognized the one-year anniversary of its $1.63 billion acquision of Interline Brands. During the company's Tuesday post-earnings call with analysts, the company commented on the positive impact Interline has had so far.
"We anniversaried the acquisition of Interline and are proud of the team's efforts in the first year. The Interline integration continues to progress as we work to execute against the business use cases to leverage Interline's capabilities," Home Depot CEO Craig Menear said. "We're excited about the opportunity Interline provides us to expand our share of wallet with customers."
Home Depot's quarterly fiscal reports have yet to include a subset particularly for Interline Brands, but the company said that will happen eventually.
"While we are on a path to fully integrate Interline brands, we aren't at a point where it makes sense to include its results in our comps and operational sell metrics," said Home Depot CFO Carol Tomé. "When the business becomes more integrated, we will include Interline's results in our operational metrics."
Tomé went on to say that Interline contributed $300 million of year-over-year sales growth to Home Depot in Q3, and $0.02 of earnings per share.
Pros Growth
Home Depot saw healthy overall growth in Q3, with sales to Professional contractors (Pro) growing faster than Do-it-Yourself customers (DIY). The top product categories that saw the most growth were commercial and industrial lighting.
"I would say the Pro is very strong," Menear said. "The low-spend Pro comp was on par with the high-spend Pro. As we look across departments, virtually every department had higher Pro spend (comparitevely) than consumer. So the Pro is strong across the business.
"Our tool business in particular just continues to accelerate and we're taking meaningful share in the tools business."
Menear said he estimates the value of the Pro market at $550 billion, with the addition of MRO for hostipality, institutional and multifamily. He estimates Home Depot's share of the market to be "somewhere in the 15 percent range inclusive of all of Pro and DIY and services."
E-Commerce
Home Depot's Q3 online sales grew more than 17 percent year-over-year, representing 5.6 percent of overall sales. More than 40 percent of its online orders were picked up in stores, "which we view is a positive sign of our physical stores' continued relevance with our customers," Menear said.
Lowe's Earnings
The Home Depot's biggest rival, Lowe's, reported a much less positive Q3 report on Wednesday. The company's sales of $15.74 billion were up 9.6 percent year-over-year, but fell short of analysts' projected $15.86 billion. Lowe's Q3 profit of $379 million was less than half of the $736 million it posted a year earlier. That massive profit dropoff included a pretax charge of $462 million related to the wind down of a joint venture, write-offs for canceled projects and impairments related to reassessment of its Orchard Supply Hardware business.
The company cut its full year sales outlook to 9-10 percent growth, down from 10 percent in its previous forecast.