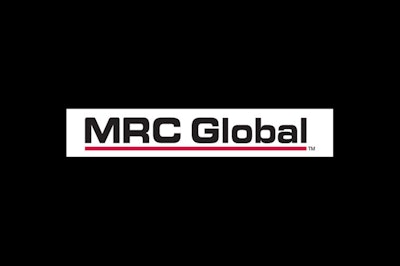 Houston-based MRC Global has been one of the industrial distributors hit hardest by the oil & gas market downturn since the summer of 2014, and those effects were still evident in the company's latest quarterly fiscal report Tuesday.
MRC Global —No. 8 on Industrial Distribution's 2015 Big 50 List — reported its 2016 Q2 sales of $746 million, a 38 percent drop year-over-year, and 5 percent down from Q1. The company said reduced customer activity across all segments and sectors drove the decline as a result of lower oil and natural gas prices. The decline followed a 39 percent year-over-year sales drop in Q1.
MRC posted a Q2 net loss of $17 million, compared to a $15 million profit a year earlier and an $8 million loss in Q1. Gross profit of $125 million in Q2 compared with $258 million a year earlier.
"Revenue was in line with our expectations this quarter. Looking forward, we do not expect a significant change in activity until customers increase capital spending," said MRC Global president and CEO Andrew Lane.
MRC's Q2 selling, general and administrative expenses were down 15.1 percent from a year earlier.
By geographic segment in Q2:
U.S. sales of $551 million (73.9 percent of total) were down $405 million, or 42 percent year-over-year. The decrease reflects a or 66 percent decrease in the upstream sector (which includes a $78 million impact from the sale of MRC's U.S. oil country tubular goods product line), a 32 percent decrease in the midstream sector and a 31 percent decrease in the downstream sector.
Canadian sales of $54 million (7.2 percent of total) were down $24 million, or 31 percent year-over-year. Approximately $3 million of the total decline was a result of a weaker Canadian dollar relative to the U.S. dollar.
International sales of $141 million (18.9 percent of total) were down $23 million, or 14 percent year-over-year. MRC said the decrease was due to the combined impact of lower project activity and deferral of MRO expenditures, particularly in Norwayand Australia.
By end market in Q2:
Upstream sales of $211 million (28 percent of total) decreased 51 percent year-over-year. MRC said the decline was across all segments and was a result of reduced customer activity. U.S. upstream sales declined 40 percent in Q2, excluding OCTG sales from last year as compared to a 53 percent decline in the average U.S. rig count over the same period. International upstream sales declined 13 percent.
Midstream sales of $292 million (39 percent of total) declined 30 percent year-over-year. Sales to transmission customers were down 44 percent and sales to gas utility customers were down by 15 percent.
Downstream sales of $243 million (33 percent of total) were down 30 percent year-over-year. The downstream sector declined by 31 percent in the U.S. and 15 percent in International due primarily to lower project activity.
MRC said it expects its 2016 full year sales to be 25 to 30 percent lower than 2015.