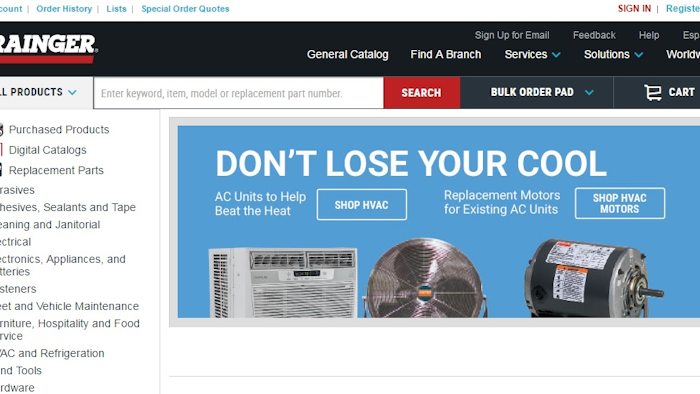 Internet Retailer recently released its "2016 Top 500", which ranks the top e-commerce retailers among different metrics, including their number of fulfillment centers. You can download the entire report here.
Retail Info Systems News shared Internet Retailer's list of the top 10 retailers with the most e-commerce distribution centers, which included Grainger. The list shows that Grainger — No. 3 on Industrial Distribution's 2016 Big 50 List — is No. 4 with 18 e-commerce distribution centers. Internet Retailer says more than 9 million website visitiors each month, doubling its traffic of 4.5 million visitors per month in 2014.
Grainger's e-commerce presence has grown steadily in recent years even as the company's organic sales and profit have declined in wake of the weakened industrial economy. In Grainger's 2016 second quarter fiscal report — shared July 19 — the company said e-commerce represented 46 percent of its total sales in the first half of the year, up from 40 percent a year earlier.
Amazon topped Internet Retailer's list by a wide margin with its 109 e-commerce distribution centers. IKEA was second with 39 and O'Reilly Auto Parts was third with 23.
Systemax rounded out the top 10 with 13 e-commerce distribution centers. Systemax is the parent company of Global Industrial — No. 24 on ID's Big 50 and featured in ID's September/October print issue as its Distributor Profile.
The rest of the top 10 included:
Safeway: 17 e-commerce DCs
Bed Bath & Beyond: 17 e-commerce DCs
Sears Hometown/Outlets: 16 e-commerce DCs
Estee Lauder: 14 e-commerce DCs
Gamestop: 13 e-commerce DCs