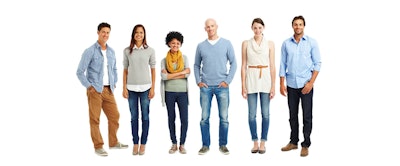 The truth is that manufacturers today are in a predicament, almost 2 million jobs are projected to go unfilled in the years ahead, while The Pew Research Center predicts that 10,000 baby boomers will retire each day over the next 19 years. This puts the next generation of workers in a good position for jobs, and millennials are quickly becoming a major part of the workforce. Attracting and retaining the best millennial employees is becoming a necessity. The challenge is Millennials often think and work differently than the other generations. For example, 64 percent of Millennials care about company perks and benefits (compared to 54 percent of Generation X and 51 percent of Baby Boomers.
Many of the older millennials were hit hard during the recession of 2008-2009, a time when they were starting out in their careers. Younger millennials have only experienced the economy as it has existed since then: slow growth. They are less risk averse than older workers in some areas, while at the same time distrusting certain traditional business strategies. They are more likely to put off buying a house, marriage, and children until later in life. As a result, what they are looking for in an employer may be a much different business relationship than what you are used to.
Things Millennials Look For
Because millennials are young, often single, and usually without a family and a mortgage to take care of, they seek flexibility. Millennials like to travel and appreciate a company that gives them the flexibility to do so. It isn't just vacation time, though. Millennials also appreciate the opportunity to telecommute if the situation allows it. Being tethered to a 9 to 5 structure is something most Millennials seek to avoid. The reasoning is simple: "I'm young, I'm single, and I might not have another opportunity to see the world again. I can sit at an office and grind it out later if I need to."
Because of this, they have developed a reputation, sometimes undeservedly, as notorious job-jumpers. In many cases, millennials are transferring jobs more frequently because that is what the situation dictates. Careers with companies that last a lifetime are much harder to come by these days. Often millennials are taking jobs that they don't find ideal out of necessity while they wait for a better opportunity to open up.
What many millennials really want out of their career is the opportunity to do what they want to do for a living. With younger millennials who are just entering the workforce, this sometimes does not match with reality. Even after gaining experience, this underlying desire still remains. They are not satisfied just trading their time for a paycheck. Millennials want to operate in a career where they feel they are making an impact. Under the right circumstances, this can translate into making them great team players who are driven to help the company succeed. Millennials want to be personally invested in the company they work for, an ideal trait for an employee.
Manufacturing companies can utilize these strategies to create a company that millennials will want to work for. You don't have to be a flashy company like Apple or SpaceX to attract millennials. Manufacturing companies serve a vital role in creating the actual goods that people need, even though they sometimes fly under the radar in the business to business world. The key is communicating what the company stands for, what the company does, and where the company wants to go. Allow your employees to embrace that and become a part of it. Also, a trip to the warehouse floor never fails to impress.
Creating the Right Kind of Office Environment
It is crucial not to underestimate the importance of the workplace environment in a Millennial's decision-making process. It's actually the number 1 thing millennials want to know about a company. This is the place where they are going to spend a large portion of their lives. They do not want to be stuck head-down in a cubicle for 40 plus hours a week for the next 40 years.
This isn't to say that you need to turn the office into a fun house, though there are some innovative new office designs being experimented with. The Kloeckner Metals Los Angeles branch has adopted a Silicon Valley office environment, for example. The vibe of the office is casual. Stand up desks are used, and background music is piped in. These additions can improve employee morale and things like walking meetings can foster team-building.
The most important aspect of the office environment, however, is the relationships between employees. The time-honored truth is that people enjoy working at a place where they like the people they work with. An open floor plan is one way to create more communication and foster better relationships. It encourages people to get to know each other, as opposed to having a person closed off from the rest of the office in their own cube.
Another way to foster better employee relationships is by sponsoring company events. Kloeckner will hold events like a corn maze where employees can bring their families. Other activities such as company bowling teams, can also help. The goal is to make the office feel like a family and get people to take a sincere interest in the lives of their coworkers without trying too hard to force it.
While these are ways to create a company culture that attracts millennials, the sure-fire way to repel them is with a company culture steeped in bureaucracy. Millennials like to get things done. Thus, flatter management structures, where there aren't as many approval procedures and hoops to jump through, are more attractive to millennials. The fewer people that need to sign off on something before it can move on to the next step, the better.
Benefits, Compensation and Advancement
As mentioned before, vacation, telecommuting and flex time can be a huge draw. The common theme is that millennials want to be treated like responsible adults who can manage their affairs. If they are given the opportunity to create their own balance between personal and work life, they will appreciate it. The level of trust earned is going to come down to the individual employee. If they can get their work done in this manner, let them, but if they can't then it is a problem that will need to be addressed.
Offering opportunities for continuing education is another big draw for millennials. Millennials live in a time that values formal education. Therefore, giving opportunities to go after certifications, learn new skills, and pursue their education while working at a company can serve as a major draw. For example, Kloeckner offers tuition reimbursement plans for employees that have been with the company for a certain period of time.
Compensation is important, mainly in that it must align with the value provided by the employee. Millennials are not usually looking to get rich quick, but they need to feel that their contributions are valued in a concrete sense. While this isn't going to be the primary consideration, if an employee sees that they can get better pay somewhere else for the same task, they are going to keep that in mind. The feeling of being under-payed can often be a larger factor in an employee leaving than the actual money involved.
The opportunity for advancement is a major factor in retention. Millennials need to see themselves growing with a company, and they need their personal goals to be able to align with the goals of the company. Millennials don't want to stagnate, they want to progress, so a growing company that promotes from within and offers long-term opportunities will always have a much easier time attracting and retaining millennials.
Steven Nghe joined Kloeckner Metals in October 2015 as the Digital Product Innovation Manager. His goal is tell you about the sexy side of steel. He is an incredibly passionate marketer who doesn't enjoy long walks on the beach or golf. Kloeckner Metals Corporation is a pioneer of the digital transformation in the steel industry and looks to fully digitalize the supply and service chain. Kloeckner is headquartered in Roswell, Georgia and consists of over 50 locations throughout North America and more than 2,400 employees.