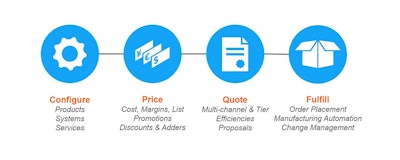 The e-commerce revolution has done more than transform B2C engagement, it is also rewriting the rules of success in B2B segments such as distribution. Today's distributors are navigating a complex environment of increasingly demanding customers, low margins, and a growing roster of competitors. It is becoming a commodity-like market where buyers are calling the shots.
One of the ways leading distributors are coping with these challenges is to adopt configure-price-quote (CPQ) solutions. The right CPQ solution can do much more than help a distributor issue accurate quotes. In fact, distributors are finding that CPQ technology helps them deliver on the buyer's demand for a better overall experience while helping distributors achieve the efficiencies that improve the bottom line.
The advantages of CPQ are more than a well thought out theory. Huttig — one of the nation's leading distributors of building products — is one example of how CPQ is already helping distributors be more responsive and innovative in this new era of commerce.
Here's how distributors can create more opportunities, cut costs, and build a customer-centric market reputation by leveraging CPQ:
Supporting Higher Volumes of Custom Orders
Traditionally, generating quotes for custom orders has been a labor-intensive process for distributors. The customer may always be right, but they do not always know exactly what they need and rely heavily on distributors for expertise during the product configuration process. With CPQ, distributors can dynamically generate and validate all possible permutations of products in their inventory. CPQ can capture configurations for virtually any complex mix of products, components, systems, and services.
Through an integrated, rules-based environment, a CPQ solution can support a guided, collaborative selling process that equips their end consumers with an interactive visual catalog to speed complex orders. It provides an intuitive, automated platform for a consultative experience that delivers the on-demand, reliable expertise that can drive higher sales volumes and greater customer loyalty.
Missouri-based Huttig has seen this first hand. The company ranks as one of America's largest wholesale distributors of specialty building products and millwork. With Huttig Doorway, its online pricing configurator, the company's network of dealers can generate quotes for custom doors that include their vendor-specific pricing. Not only does this make the dealer's experience smoother, it also dramatically improves Huttig's capacity to issue quotes for a highly customizable product with potentially millions of variables. In 2017, Huttig's customers generated more than 150,000 self-service custom quotes through its online configurator. The company is on track to exceed that mark in 2018.
Automating Sales Know-How
You will often hear a distribution executive say that they wish they could clone their best sales reps. CPQ enables them to do the next best thing: it can guide reps through best-practices — freeing them to focus on consulting. This allows distributors to bring new reps up to speed faster, which substantially lowers training costs. It also preserves the collective know-how of experienced reps, so that when an experienced rep leaves the company, their knowledge does not leave with them. CPQ software guides a buyer through the hundreds of components and configurations for a project, meaning sales personnel do not have to start from scratch each time they need to develop a compelling proposal. This reduces turnaround time from hours to just minutes.
Faster Time-to-Market for New Products and Services
With CPQ, a distributor can continually expand and refresh its service offerings while simplifying the process of adding new options to its catalog. During a guided engagement, a CPQ solution can also suggest complementary products that can increase the value of each order.
More distributors are also seeking to provide new services such as light manufacturing, assembly, and product configuration management. These value-added distributors can use CPQ technology to minimize the complexity involved in managing the high volume of possible product configurations they offer.
Creating a More Automated Process for Custom Quote Generation
CPQ's dynamic kitting and bundling of multi-product solutions automates the creation of proposals and orders, thereby shortening lead times and reducing the cost of responding to bids. The efficiencies from this automation cascade throughout other areas of the business as well.
Huttig reduced of the number of phone calls exchanged between their inside sales team and the client using CPQ. Before the implementation of their customer-facing solution a typical order would involve multiple phone calls to review and ensure the accuracy of a quote. The configurator removed the guesswork and allowed Huttig's customers to generate a quote at any time without contacting the inside sales team directly, saving significant time while ensuring greater confidence in the quote's accuracy. This translated into a lower cost of sales for Huttig. Each phone conversation adds to the cost to generate quote, and the cost can quickly snowball when multiplied across tens or hundreds of thousands of quotes. Huttig's CPQ solution helped cap those costs and freed its sales team to focus on nurturing customer relationships.
Quicker Translation of Quotes into Orders
The integration of CPQ is important because integration speeds fulfillment and ensures the smooth transition of specifications from the quoting system to the order production and fulfillment systems. This not only accelerates order turnaround time but eliminates non-value-added activities and ensures complete and accurate order information.
Shifting the Conversation From Price to Quality of Service
For distribution customers, the e-commerce revolution has opened the door to more vendor options and lowered the cost of switching from long-term partners. This has left many distributors scrambling to differentiate their brand in a more crowded market. To stay competitive, they need to offer potential customers a compelling reason to do business with them beyond price alone. CPQ can help distributors do this by creating a quoting experience that is simpler, more collaborative, and more efficient.
The Huttig team found that its online configurator has helped it stand out from the competition and refocus the customer's purchasing rationale from price to quality of service. Huttig quickly built a reputation as a vendor that was easy to do business with and responsive to dealer demands for a streamlined, accurate, and more efficient quoting process on custom orders. Ultimately, the CPQ solution helps its dealers provide their own customers a better experience, and that has translated into the repeat business and high customer loyalty that is unusual in a commodity-like market.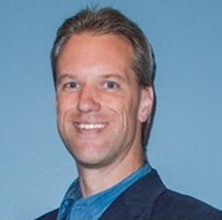 More Products, More Choice, Fewer Returns
Customers expect to be able to select the options they want and tailor an end-product to their exact specifications. CPQ enables distributors to offer a self-service buying experience that can be accessed anywhere, anytime. This customer-driven process provides a visual confirmation to the customer to ensure they receive the right product or solution to meet their needs.
In an era where the customer experience has emerged as a mission-critical priority for distributors, CPQ technology has become an essential tool. CPQ technology can drive improvements in customer engagement and productivity, while reducing costs. Enterprises that adopt CPQ will gain market reputation as an innovative distributor committed to the highest levels of service and support.
Ron Eismann is Vice President of Strategy for Infor Configure Price Quote