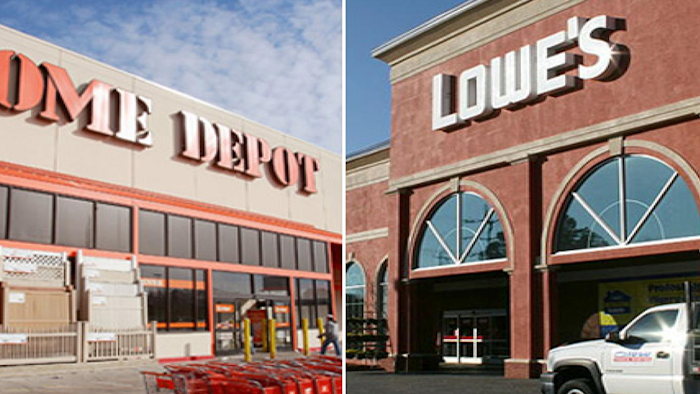 Home Depot and Lowe's — the two largest home improvement centers in the country — say they have increased sales to professional customers by double digits and are targeting them by offering better credit terms, flexible deliveries and on-line transactions. The growth seems to indicate both companies will continue to seek professional (pro) customers and MRO buyers, a direct shot at construction and industrial distributors.
Distributors should note the steps that these two giant companies are taking to capture a higher share of the pro construction market. Both are adding products to their pro business lines as well offering a number of new services, making it easier for their pro customers to order and receive supplies.
"We continue to strengthen our pro business, driving comps well above the company average, by further advancing our products and services offering to better serve the pro customer," said Lowe's COO Ricky Damron during the company's Q1 earnings conference call.
Lowe's has been developing an omni-channel approach to serve its pro customers. One of those strategies is using Account Executive Pro Services (AEPs). AEPs work with larger regional customers to have them order and replace products across multiple geographies and locations.
"Our AEPs are a key component of our strategy to grow our business with larger pro customers," Damron said during the earnings call.
Lowe's has more than 180 Pro outside representatives in the field and says it has experienced great success with the program as grows sales in AEP comp sales. The company expects to add more AEPs to create additional opportunities to reach pro customers.
Damron also says that Lowe's is using a targeted marketing approach aimed at the professional customer and conducting special buying events for them to drive awareness and generate new business.
"We have been pleased with these results in driving both incremental purchases with existing pro customers and increasing relationships with new customers," Damron said.
Meanwhile, Home Depot has taken several steps to grow its pro business and sales to that segment are reported to be outpacing the company's average.
The company is offering pros private label cards that have extended terms, special return policies and other steps that are leading to a substantial number of new accounts, higher than what HD had originally anticipated.
Home Depot also recently designed and tested a pilot plan to deliver products faster and more efficiently to pro customers. The company says that it was encouraged with initial sales and it has since expanded into additional markets such as Atlanta, GA.
"We saw a pretty substantial increase in the customer option to choose delivery and we're seeing double-digit growth," said Craig Menear, chairman, CEO and president of Home Depot in a call with analysts following release of the company's Q1 earnings.
The company offers flexible delivery to contractors seven days a week and next day delivery on in-stock items. It also offers contractors the ability to order on line and pick up orders in two hours, as well as beneficial credit terms and fuel discounts.
Menear also said Home Depot expects to see more growth in MRO sales due to its acquisition of Interline Brands, one of the largest industrial distributors in the country.
"The Interline integration is progressing nicely," he told financial analysts. "We continue to move forward on a number of exciting sales driven initiatives, and we have outlined a path to truly realize the value of the Interline acquisition and the total pro opportunity over the next 18-to-24 months."
Home Depot acquired Interline Brands last July for $1.63 billion. The acquisition was designed to help HD sell more supplies to customers in the building and maintenance profession. The company is pleased with the collaboration within its sales organization as they jointly attack end user professional markets.
Home Depot says it currently has a small percentage of sales in building and maintenance and Menear said "we think there's lots of opportunity to grow."
After releasing its quarterly results, Home Depot raised its fiscal 2016 sales guidance and now expects sales will be up approximately 6.3 percent and comp sales will be up approximately 4.9 percent.
Lowes' RONA Acquisition Approved
In addition, Lowe's is expanding its reach and has has received regulatory approval for its huge $2.3 billion purchase of RONA, its large competitor in Canada.
In Mid-May, Lowe's received approval from Canadian regulatory authorities for its $2.3 billion acquisition of large competitor RONA, a leader in Canada's home improvement and renovation retail market. The transaction was approved by RONA's shareholders in March, but was subject to approval by regulators in the U.S. and Canada.
RONA, with its headquarters in Boucherville, Quebec, has approximately 500 corporate and independent affiliate dealer stores and nine hardware and construction material distribution centers. The company has more than 17,000 employees in corporate stores and over 5,000 employees in the stores of its independent affiliate dealers.
Lowe's has 42 stores in Canada and virtually no presence in Quebec, a province that accounts for about 23 percent of the country's population. RONA has a dominating presence as the home improvement market retailer.in Quebec.
Lowe's had attempted to buy RONA four years ago, but the deal failed to go through, largely because of political backlash in Quebec.