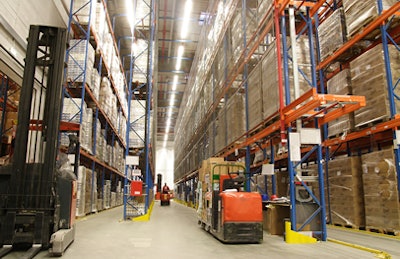 Every successful organization today, regardless of size, faces constant pressure to improve and adapt to changes in the business climate, customer preferences and available technology. This pressure to improve is especially obvious in areas directly impacting an organization's bottom line, particularly the warehouse and distribution center. Demand for better WMS solutions to create efficiencies in these areas has resulted in a dizzying array of products ranging from embedded WMS modules that are included as part of an ERP solution and best of breed bolt-on WMS systems, to cloud-based systems that completely lack direct integration with business systems.
Whitepaper: 4 Signs Your Warehouse Needs a Barcoding System
The warehousing and distribution sectors expend a lot of time and energy to fulfill their core missions: receiving, putaway, cycle counting, picking, lot control and inspection, replenishment, manifesting and shipping of inventory. They are established, conservative, and often seasonal business segments that have traditionally been driven by manual labor and disparate shipping and inventory tracking systems. Choosing the right WMS can not only make processes more efficient and help manage a workforce, it can also position an organization for growth and greatly improve customer service.
But not all warehouse management solutions are created equal.
If you're tasked with looking for a WMS and are overwhelmed by the number of product choices and nuances, don't throw your hands up and look to a crystal ball for answers. Instead, here's a handy guide to the eight magic questions you need to ask yourself to ensure a WMS meets your company's current and future needs.
1) How well do you know me?
Does the WMS vendor thoroughly know who you are and specialize in the warehouse/distribution industry? If so, it will be able to help ensure that you are able to adopt industry best practices that will make your company more competitive. And if your business operates within a particular distribution niche, ask if the WMS vendor has a successful track record with similar businesses.
2) Can you see me now?
The key word here is visibility. A good WMS should allow management to set realistic and manageable performance metrics for individual branches, across zones and for the people staffing them. The WMS should be able to identify individuals performing well and use that data to establish benchmarks for the company as a whole. As an example, this visibility can help expose throughput impediments, which in turn empowers management to make improvements to the process.
3) Just how smart IS an intelligent WMS?
The best WMS product has built-in intelligence in order to drive material handling and automation systems, such as conveyors and carousels (including pick/put to light). The vendor's product should have a proven track record in seven areas:
slotting optimization
serial number/lot number control
integrated carrier compliant manifesting
kitting & assembly
cycle count planning (which provides a more systematic inventory control process)
alerts (notifying the appropriate people when a specific event occurs, for maximum visibility)
vendor-managed inventory (VMI) to provide value added services on-site so that inventories can be replenished efficiently to proper levels
4) Got a KISS strategy?
If a WMS is easy to use, it will reduce the amount of time you spend on employee training – for all employees, from pickers to senior management. A well-designed WMS enables users to spend less time setting up and monitoring daily operations, so they are able to quickly adapt to new requirements. New employees can also be up and running in a matter of hours rather than weeks. Most importantly, clear navigation ensures that all employees will be able to leverage the WMS functionality to its fullest.
When choosing a WMS, look for a system that offers easy-to-follow menus and help screens that can improve usability. For example, make sure the WMS allows for simplified data entry and creation of template reports and charts. Similarly, dashboard views (which automatically update in real-time) provide users with a single location to access all of their most critical data.
5) Is inventory where it should be?
At its core, a WMS needs to be good at controlling inventory. For example, it should quickly be able to show who picked what, how much and when. By managing inventory more efficiently, companies can reduce unnecessary overstock caused by duplicate purchases or "lost" inventory. More accurate inventory data results in lower costs, increased profitability and better customer service.
6) Can you scale with me?
As the needs of your business change, the WMS should be able to scale and adapt. It should interface with conveyor and carousel systems and extend easily to support multi-branch operations. The WMS will ideally provide an extensive suite of software modules to handle your unique business requirements while offering the flexibility to enable user-level control of things like user-assigned menus, report design, labeling options, performance metrics, and more.
7) Is it easy to ERP?
A top-notch WMS needs to be interoperable with ERPs from well-known vendors, including SAP, Oracle/JD Edwards, Epicor, Infor and Microsoft Dynamics. If it can't ERP with ease, there will be more headaches (and costs) as the WMS implementation progresses. For example, you might change ERP vendors as your company grows, so it's crucial to know that your WMS will be compatible with new products. One way to do this is to determine whether or not a WMS is built around an open architecture. If it is, your WMS is more likely to work with future applications and operating systems rather than locking you into in a proprietary and potentially expensive platform.
8) Since it's all about the money…what about the ROI?
Price is important, but so is functionality, flexibility, integration, scalability, ease of use, customer support and more … all affect how the WMS can provide a tangible return on investment. A poorly chosen warehouse management system can end up costing you more than it saves as you attempt to fix problems with costly integration or customization work to fit requirements. That's why it's crucial to look at the overall value of a WMS solution – does the slightly more expensive WMS do more of what you need now and offer a lower total cost of ownership in the long run?
The best WMS excels at simplifying tasks and boosting order/shipping accuracy, which directly reduce labor costs by improving warehouse throughput. The WMS can also be used to establish employee performance metrics and incentive programs that help control labor costs. These changes not only directly lead to higher profitability, they contribute to improved customer service – the real win-win.
------
The difference between purchasing the right WMS and the wrong WMS can simply be a matter of asking these Magic 8 questions.
The right WMS will save you time and money, and ultimately increase the efficiency and manageability of your business. The effects of that will be faster turnaround, fewer errors, well-managed employees, lowered costs and improved customer satisfaction.
Eric Allais, president and CEO of Washington-based PathGuide Technologies, Inc., has over 30 years of experience in marketing, product management and sector analysis in the automated data collection industry, including warehouse management practices in wholesale distribution. He can be contacted at eric@pathguide.com.