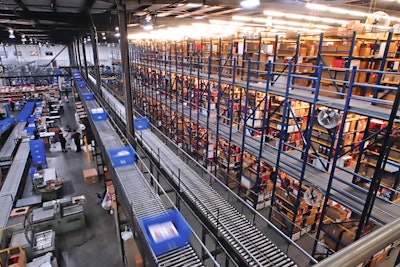 DEDHAM, MA — Rapid growth in the worldwide market for warehouse automation and control systems is being driven primarily by the global boom in e-commerce, and its profound effects on fulfillment requirements, according to a new ARC Advisory Group market study, "Warehouse Automation and Control Global Market Research Study". According to Clint Reiser, principal author of the study, "While the revenue growth in this market isn't obvious because most suppliers are privately held companies that do not report their revenues, our research indicates that the warehouse automation market will see significant growth over the five-year forecast period."
The retail fulfillment paradigm shift, driven by the e-commerce boom, is stimulating widespread growth in warehouse automation and control system sales. Retailers and their wholesalers and 3PL fulfillment partners are investing in systems that can efficiently handle a high volume of small, multi line-item orders. These systems include warehouse control systems (WCS), goods-to-person systems such as shuttles, and pick-to-light and put-to-light. In addition, evolving fulfillment demands drive warehouse investments through the supply chain to parcel carriers and manufacturers. Parcel carriers are receiving increased volumes and throughput demands, and manufacturers are being pressured by retailer partners that are running leaner inventory operations.
Warehouse Control Software Delivers Value
Warehouse control systems (WCS) provide real-time control of resources, equipment, and material flows across the facility. WCS contains the critical intelligence that coordinates automated and manual processes across a facility that ultimately delivers the desired performance improvements. Many of these systems have evolved to include optimization functionality that prioritizes orders and processes to deliver further performance improvements. In addition, the relatively high level of flexibility inherent in WCS has made them an efficient point of adaptation to the changing requirements and agility required for e-commerce fulfillment. Finally, business intelligence modules attached to WCS provide valuable visibility into real-time status of operations across the facility. Consequently, many vendors consider their control system software to be a critical differentiator between themselves and their competitors.