BlackHawk Industrial
TULSA, OK (October 2, 2023) – BlackHawk Industrial, a market-leading distributor of metalworking and other mission-critical industrial products, is pleased to announce the appointment of Todd Sanzone as General Manager of BlackHawk Manufacturing effective immediately.

In this newly created and pivotal role, Todd will lead efforts to integrate and optimize the manufacturing operations of the company's recently acquired companies Tool Fab, XPress, J & S, and JET Tool.
BlackHawk is strategically acquiring manufacturing operations to benefit customers and enhance its reputation in the tooling sector. Achieving seamless integration and maximizing equipment utilization presents challenges. Sanzone will be tasked with optimizing these crucial facets of the business.
John Mark, CEO of BlackHawk Industrial said, "Todd Sanzone's appointment as General Manager of Manufacturing is a significant step for us. His leadership has resulted in substantial growth within his team and garnered high praise from customers. His wealth of experience makes him an ideal leader to oversee the integration and growth of our manufacturing operations."
Sanzone joined BlackHawk Industrial following the acquisition of his company (JJ/Jet Tool) in April 2022. He brings more than two decades of experience in tool design, manufacturing, and business development to this role.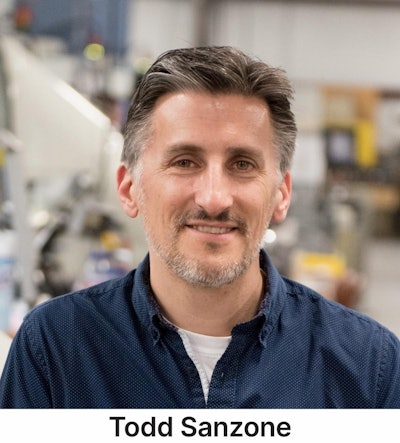 "I am excited to take on this role and contribute to the company's growth," said Sanzone. "BlackHawk has a strong legacy in the tooling industry, and I look forward to working closely with the team to maximize our manufacturing capabilities."
BlackHawk distinguishes itself as the number one choice for industrial manufacturers who need technical service and production savings and is an Industrial Distributor with locations across the U.S., Mexico, United Kingdom, and the Philippines.
Known as the "across the production floor" partner, BlackHawk delivers value through product and supply chain performance that lowers the total cost of production and markets nearly three million products from the industry's top brands with a heavy emphasis on metal-working products.
As the company continues to grow and expand in the months and years ahead, it is actively seeking opportunities to acquire new partners and integrate them into its industry-leading operating system. Interested parties should contact the acquisitions team at [email protected].
About BlackHawk Industrial
BlackHawk Industrial is a leading industrial distributor, focused on metalworking such as carbide cutting tools, abrasives and saw blades. The Company provides a full line of MRO, industrial fasteners, and packaging products. BlackHawk has the expertise and capability to provide custom industrial vending solutions and creative design, build, and supply chain solutions. The highly technical sales staff strives to deliver world-class service and cost savings across the customer's production floor.
For more information about BlackHawk Industrial visit www.BHID.com.