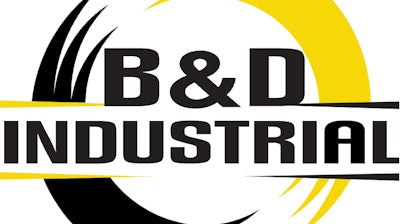 B&D Industrial
MACON, Ga. — B&D Industrial announced that its Savannah, Georgia, service shop has been awarded the prestigious Platinum Status Award for Timken Bearing Shop Certification.
This achievement is a testament to B&D Industrial's dedication to quality, industry best practices, and exceptional bearing maintenance training.
The Timken Bearing Shop Certification program recognizes organizations that exhibit an exceptional commitment to training and implementing proper bearing practices. This distinction underscores the outstanding quality and dedication that B&D Industrial demonstrates in its operations.
As part of the program, B&D Industrial has completed the rigorous Timken Bearing Maintenance Training, showcasing its proactive approach to staying updated with the latest industry standards and practices. This certification not only highlights B&D Industrial's commitment to maintaining the highest standards but also its dedication to providing top-notch service to its customers.
Moreover, B&D Industrial has taken its commitment a step further by successfully completing advanced training and undergoing a thorough audit of its maintenance practices and facility. This accomplishment has positioned B&D Industrial as a recipient of the esteemed Platinum Status Award, a recognition that signifies excellence in every aspect of bearing maintenance and operations.
"B&D Industrial is honored to receive the Platinum Status Award for Timken Bearing Shop Certification," said Mike Rine, senior VP of operations at B&D Industrial. "This achievement reflects our team's hard work, dedication, and continuous pursuit of excellence in all that we do. We are committed to providing our customers with the highest quality solutions and services."