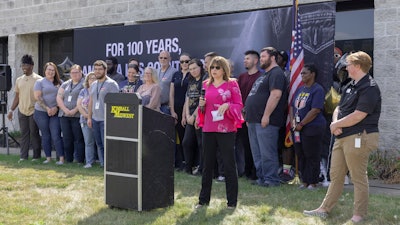 Kimball Midwest
COLUMBUS, Ohio — Kimball Midwest recently held an event to recognize charitable donations to organizations selected by teams at its Columbus headquarters.
The company is holding a series of events to honor its 100th anniversary throughout 2023. Notable among them is a community campaign to celebrate the milestone in which Kimball Midwest will donate $1 million across the country. Each sales region, corporate department and distribution center will receive money for associates to donate to a qualified charity of their choosing.
On Sept. 11, Kimball Midwest's Columbus associates hosted an event at the company's headquarters and welcomed representatives from six Central Ohio nonprofit organizations:
Ann Fixari and Mary Kuhn, A Kid Again (Finance Department)
Madison Massey and Kristin Giger, St. Stephen's Community House, (Culture, Diversity and Inclusion Department)
Laura Mullins, Columbus Diaper Coalition (Executive Assistants)
Maureen Doyle, Mid-Ohio Food Collective (Administrative Services Department)
Kelli McQuesten, Lifeline of Ohio – the local affiliate of Donate Life America (Strategic Sales Department)
Zaki Murtadza, Columbus Humane Society (Sales Development, Human Resources, Purchasing and Marketing departments)
The Trevor Project (Sales Recruiting Department) and the Pancreatic Cancer Action Network (Legal Department) also were selected for donations but were unable to send a representative to the event.
"Kimball Midwest's 100th anniversary community campaign was a wonderful opportunity to bring our Administrative Services Department together and do something very special for our community," said Tina Hamilton, Kimball Midwest's administrative services manager. "We realized through this process that there are so many needs to fill and charities that are worthy recipients. This event gave us the opportunity to reflect on what was most meaningful to us and ultimately, as a team, chose Mid-Ohio Food Collective."
Because the event was held on Sept. 11, the program started with a moment of silence.
The Kimball Company was founded in Cleveland, Ohio, in 1923. In 1984, it joined with Midwest Motor Supply, which had been founded in Columbus in 1933, forming Kimball Midwest. From its roots as a regional automotive supplier, the company has experienced consistent growth, with sales going from $1 million in 1983 to more than $400 million in 2022.
"As we continue to grow throughout the United States, we are excited to help our customers, associates and communities thrive," Kimball Midwest President Patrick McCurdy III said.