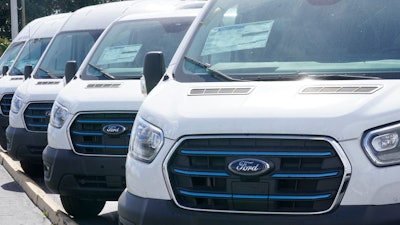 AP Photo/Marta Lavandier, File
TAUNTON, Mass. – Rexel Energy Solutions, a Rexel USA business unit, has been awarded a three-year contract with the U.S. Postal Service for the supply of electric vehicle charging stations to be deployed at Postal Service facilities.
The three-year contract includes two additional options of two-years each, and a potential maximum of 41,500 stations which can be ordered during the contracts period of performance.
As one of the country's leading distributors of EV charging products and services, as well as energy optimization and electrification programs and solutions, RES is prepared to apply its technical expertise, industry foresight and distribution experience for successful program deployment.
"Rexel Energy Solutions is proud to be selected to support the U.S. Postal Service in the electrification of the nation's largest federal fleet," said Christopher Monoson, President of RES. "The awarding of this contract solidifies Rexel and RES' leadership in providing electrification solutions across the United States. Rexel's commitment to our Environmental Sustainability, Social, and Governance strategic roadmap and our goal to be the leading sustainable solutions resource to our customers align perfectly with the U.S. Postal Service project."