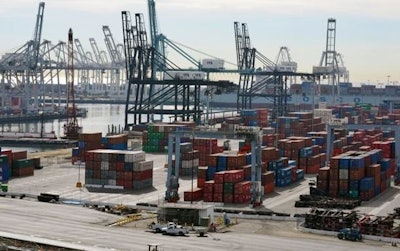 On Oct. 9, the National Retail Federation sent a letter to the President of the International Longshore and Warehouse Union, as well as the Chairman and CEO of the Pacific Maritime Association. It urged the two entities to reach a successful and speedy conclusion on a new labor agreement to resolve the ongoing congestion issues impacting the West Coast ports.
No apparent progress has been made, and the NRF is getting restless.
The retail federation took matters to another level on Monday, sending a second letter to both parties, this time accompanied by the signature of 104 national, state, and local organizations — representing retailers, manufacturers, transportation providers, farmers, and others — again imploring the two sides to reach a conclusion.
"Many U.S. and Canadian stakeholders we represent are already experiencing severe negative effects of delayed shipments," the Oct. 20 letter said. "Unless addressed by the two negotiating parties, this situation will soon start to have a broader negative impact on the U.S. and broader North American economies."
A six-year contract between the ILWU and PMA covering 20,000 dockworkers at West Coast ports expired on July 1, though workers have continued working without a new contract. And even though a labor strike is unlikely, retailers and supply chain stakeholders want guarantees no such thing will occur through November to ensure holiday orders can reach retailers.
The NRF also sent letters on May 9 and July 9 voicing the same concerns.
Everyone, however, doesn't agree that the situation is as dire as the NRF claims.
"No one is expecting that a strike or lockout of West Coast seaports will keep Santa from making his appointed rounds this year," Jock O'Connell, international trade adviser with consulting firm Beacon Economics, told Bloomberg following the Oct. 9 letter.
In 2002, a labor lockout lasted 10 days and cost the U.S. economy about $1 billion per day.
The NRF's Oct. 9 letter called for the sides to at least extend the expired contract through November. That hasn't happened, resulting in another letter 11 days later. The ILWU and PMA reached a tentative deal on health benefits in August, but no figures of progress have been announced since.
"We are deeply troubled by the fact that no apparent progress has been made in the negotiations since August," NRF President and CEO Matt Shay said in the Oct. 9 letter.
The ports in Los Angeles and Long Beach, CA are the two most prominent facilities involved, accounting for an estimated 40 percent of cargo shipped to the U.S. West Coast ports are crucial entry points for Asian merchandise, and the NRF's concerns are that retailers that have already had to make contingency plans for on-time delivery will miss their target on-sale dates.
"We are now at a point where a new contract must be finalized soon in order to allay growing concerns of thousands of businesses who rely on West Coast ports for orderly and timely supply chain operations," the NRF's most recent letter states. "The congestion problems at key West Coast ports in both the U.S. and Canada are getting worse each day, and the absence of a new signed contract between the ILWU and PMA is a significant contributing factor.
"Many of the stakeholders that we represent are already experiencing significant adverse effects of delays in moving their cargo. Again, this will soon start to have a negative impact on the overall economy."
Time will tell if the NRF's words are heeded by the dockworkers and management. If not soon, another, even more stern letter would be expected to follow.