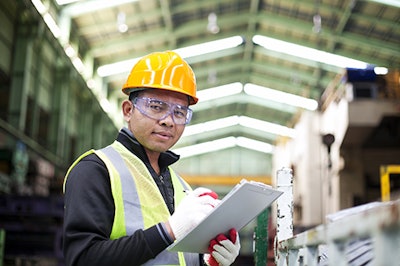 OSHA does not expressly focus on distribution employers as much as more hazardous industries such as construction and primary metals. However, the sheer number of such employers, the new logistics approaches, and the increased focus by unions and the DOL means that such employers are far more likely to experience OSHA inspections than in the past. This industry's problem is that it knows that its workplaces are not as dangerous or as complicated as many other industries. So it focuses less on OSHA compliance than on DOT and motor vehicle regulations and preventing common injuries. This focus creates substantial monetary exposure because preventing injuries and accidents may not guarantee OSHA compliance or vice versa.
Your monetary exposure arises from routine OSHA violations such as a blocked extinguisher or a damaged extension cord. Fed-OSHA can treat a subsequent violation of the same OSHA standard at ANY of your other facilities as a repeat violation for FIVE years. So if you have multiple locations, a first repeat, depending on the seriousness, could be $12,000 to even $70,000, and by a third occasion, could be as much as $70,000 per item. I am not being overly dramatic here. Go to OSHA's "Newsroom" on its website (www.osha.gov) and review the dozens of recent six-figure penalties against big box stores, pharmacies and their suppliers for second and third time violations of exit doors, extinguishers and electric cabinets being temporarily blocked during loading or unloading (retail stores' materials handling skills and stockrooms are weak, which make them easy targets for such violations).
Here's my suggestions for your worksite:
Ensure that you have a "site-specific" safety program for each location. Even if the hazards and compliance issues are similar from site to site, the plan must be customized and not a "generic" plan.
Any job that requires Personnel Protective Equipment (PPE) requires a Job Safety Analysis (JSA) dated AND signed by the person who prepared it. Think about eye protection and gloves for employees cleaning the site or vehicles or for site or equipment maintenance work such as at forklift charge areas;
Don't overlook foot protection. You may decide that many warehouse positions do not require steel toe shoes, and if so, you need to document your analysis. Be aware that Cal-OSHA now aggressively argues that steel-toed shoes may be required in all warehouse and distribution settings.
You already know that forklifts and pallet jacks present some of your most meaningful hazards. In addition to ensuring that operators are re-trained every three years, make sure that the operators also are "evaluated" for each type of equipment to which they are assigned. Simply watching a DVD and taking a written test is not enough.
Operators engage in horseplay and even get injured by doing foolish things such as hanging a foot outside the pallet jack or forklift when driving close to a pallet or rack. In addition to discipline, an accident or unsafe behavior usually triggers a duty to retrain and evaluate.
OSHA requires daily or per-shift inspections of forklifts, but oddly does not require the inspections in writing. Nevertheless, document these inspections. How else will you prove that they occurred?
A distribution center will have some occasions when machinery will be worked on and you must maintain and enforce policies to "lock out" all energy sources. Your maintenance employees generally have this role, but ensure that these "affected" employees are trained to not try to work on or un-jam conveyors, balers or other machinery. You must maintain "machine-specific" procedures, document training AND every year require a competent person to observe an employee going through each lock-out procedure to ensure that the procedure is adequate.
Every site has missing knock-outs in or on electric cabinets and on fixtures or even emergency lights. These are some of the most common OSHA violations.
Extension cords must not be used where permanent wiring is required, including those incredibly useful spotlights mounted to the wall at each dock bay.
Maintain a weekly or daily basic inspection/checklist for routine items. OSHA must prove that "you knew or should have known of a violation with the exercise of due diligence" in order to cite you. If you regularly inspect the facility and correct issues, it's much harder for OSHA to prove that you should have known of the violation with the exercise of due diligence.
Recognize that compliance with ABI, wine and spirits security and other standards is not the same thing as OSHA compliance. It would be nice if all of these regulatory agencies coordinated with each other, but they don't.
Take seriously your workplace violence procedures and take steps to protect drivers delivering goods to remote or isolated locations or after hours.
The odds are that some of the issues in today's article will soon occur at your facilities, but if you heed the above advice, you should dodge any unexpected legal claims.
Howard Mavity is a partner in the Atlanta office of Fisher & Phillips LLP and co-chairs the firm's Workplace Safety and Catastrophe Management Practice Group. He draws upon his past business experience in transportation, logistics, construction, and industrial supply to work with clients as a business partner, and focuses on eliminating employee problems by commonsense management. Mavity has provided counsel for more than 225 occasions of union activity, guided unionized companies and has managed some 500 OSHA fatality cases in construction and general industry, varying from dust explosions to building collapses, in virtually every state. For more information, please visit https://www.fisherphillips.com/en/index.html.