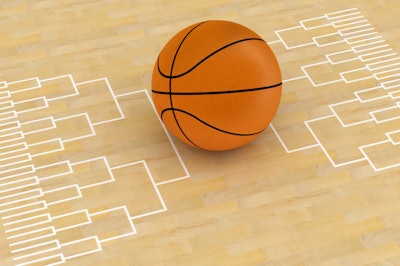 A co-worker of mine just distributed printed NCAA Division 1 men's basketball tournament brackets to the rest of the office. Not for a bracket pool, but just for informational purposes for those who wanted them.
Such has become the norm across workplaces across the country as one of sports' biggest moneymakers is once again about to start, and for a hefty price to employers. From the time the tournament field of 68 was announced Sunday evening until the national champion is crowned April 6, millions of employees will spend work hours filling out brackets and watching tournament games, creating a major drag on workplace productivity.
How much? Chicago-based global outplacement firm Challenger Gray & Christmas estimates that the total cost of lost workplace productivity could be as high as $1.9 billion from now until the tournament ends. The same firm has done similar studies in the past, including a figure of $13.4 billion in lost productivity due to fantasy football in 2013. Last year the firm predicted that 50 million Americans would participate in March Madness pools. This year's figure is 60 million.
"That figure may be on the conservative side, considering this year could garner a lot more interest from even casual basketball fans eager to see if Kentucky can continue its undefeated season through the tournament," said John A. Challenger, CEO of Challenger, Gray & Christmas.
"If Kentucky plays their first tournament game during the workday, it wouldn't be shocking if every single working person in the state called in sick for the day or took an extra-long lunch break," Challenger joked.
Challenger's estimate is based on the number of working Americans who are likely to be caught up in March Madness; the estimated time spent filling out brackets and streaming games; and average hourly earnings, which, in January, stood at $24.78, according to the Bureau of Labor Statistics.
But whereas fantasy football's season spans four months, March Madness is equally potent in a much shorter timeframe at 3½ weeks. The first week is by far the most disruptive. The initial rush between Selection Sunday and the tournament's first games on Tuesday is when the vast majority of bracket-filling is done – whether through online pools or printed versions. After that, the tournament's second and third rounds, this year spanning Thursday-Sunday (March 19-22), is when invested fans are streaming games at work, or watching scores. Thursday and Friday each include 16 games, and Saturday and Sunday each have eight. It's in those two rounds where the biggest upsets tend to happen. A dozen of those Thursday and Friday games are played during regular work hours.
"Many of these individuals, including the President of the United States, take time out of their workday to complete these brackets, as well as conduct the research needed to make informed selections," the firm said.
By the way, President Obama picked Kentucky to win it all in his bracket.
March Madness isn't the only time employers have to deal with sports-related workplace disruptions. Aside from aforementioned fantasy football from September through December, the World Cup drained productivity this past summer. The semi-annual summer and winter Olympics also steal work hours, as so fantasy baseball, though not nearly as impactful as those first two.
So should employers just ban March Madness pools?
"Absolutely not," Challenger said. "This tournament and the betting and bracket-building that come with it are ingrained in the national fabric. Trying to stop it would be like trying to stop a freight train. When even the president finds time to fill out a bracket, an employer would be hard pressed to come up with a legitimate reason to clamp down on March Madness activities. Any attempt to do so would most likely result in long-term damage to employee morale, loyalty and engagement that would far outweigh any short-term benefit to productivity.
"If anything, employers should embrace March Madness and seek ways to it as a tool to boost employee morale and engagement," Challenger continued. "For example, creating a company-wide office pool that is free to enter and offers a free lunch or gift card for the winner could help build camaraderie and encourage interaction among co-workers who may not typically cross paths."