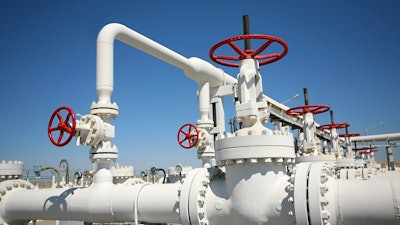 iStock
Distributors who serve the oil and gas markets reported strong sales for Q1 and indicated that despite numerous economic problems, they anticipate a strong year.
The reasons for this optimistic outlook include a substantial backlog in business, acquisitions, European customers re-evaluating their energy purchases due to Russia's invasion of Ukraine, an increase in oil production, and opportunities in the renewable energy/green markets.
MRC Global, for example, reported that its backlog stood at $667 million, an increase of 28 percent over year-end and the highest level it has seen since January of 2019. Each of the company's four business sectors in U.S., Canada and other international markets achieved double-digit percentage backlog growth in the first quarter.
"We are raising our full-year revenue guidance by $100 million to $3.1 billion and we are now targeting $200 million of EBITDA for the full year, which represents 6.5% of sales," said Robert Saltiel, president and CEO of MRC Global. "We anticipate that 2022 will be an excellent year for our customers, our employees and our investors."
Saltiel told financial analysts that a global energy transition is underway to address climate change, and expects this will have a significant impact on MRC Global's future business.
He said that MRC Global has an important role to play in the energy transition.
"We are already participating in many green energy projects and decarbonization efforts," he said. "In recent years, we have supplied PVF products for use in biofuel, wind, hydrogen, geothermal, hydro-electric and carbon capture and storage projects. We are competing to participate in various green energy and decarbonization projects around the globe."
Meanwhile, NOW Inc., which operates primarily under the DistributionNOW and DNOW brands, said its revenue in the U.S. was $334 million, up 10% sequentially.
The company, a global supplier of energy and industrial products, services, engineered equipment packages and supply chain solutions, said that U.S. growth was captured partially through expanded sales of pipe, valves and fittings essential for producers to grow oil and gas production.
International developments have also had an effect on DNOW.
"The Russian invasion of Ukraine is causing many European nations to reevaluate the security and the reliability of their sources of energy that drive their economies," said David Cherechinsky, president and CEO.
He said that re-evaluation translates into replacing imported oil and gas from Russia with more domestic or imported options, generating added demand for other company products in those regions.
Cherechinsky said NOW Inc. has ceased operations in Russia, where revenues and net assets each represented less than 1% of DNOW totals.
The company raised its total company guidance for the full year 2022 with revenue expected to increase 20%.
DNOW is also looking to grow its business through acquisitions.
"We tend to be able to buy at lower prices in a downturn," Cherechinsky told analysts after releasing Q1 results. "But there are opportunities out there. We've got some we think could close pretty soon. They tend to be small right now. But we have plenty of cash and a strong balance sheet, and we are very active looking for deals. We made two acquisitions last year, and I think we will do that or better this year."
David Little, CEO, president and chairman of DXP Enterprises, said his company recorded 25% organic sales growth, adjusting for four acquisitions at the end of 2020 and 30% overall year-over-year sales growth in Q1.
"We are off to a great start this year. This is DXP's first quarter of meaningful organic growth in total sales and EBITDA, which is great to see," he said.
DXP is looking at other markets through its recent acquisitions.
"These last acquisitions are targeted around some markets that are less cyclical. We've been in the water and wastewater business, but we're now pushing it even more — and trying to grow it into a bigger piece of what DXP does," he said.
DXP has acquired eight new distributors since December 2020, and the company said it is demonstrating its commitment to the water and wastewater products market with these new additions.
DXP is also looking to expand its business in the compressed air market.
Its most recent acquisition was Cisco Air Systems Inc., a leading distributor of air compressors and related products and services focused on serving the food & beverage, transportation and general industrial markets in the Northern California and Nevada territories.
"We've been in that business, but it hasn't been a real big focus of ours. And so both of those things are making DXP different than it's been in the past," Little said.
The longtime Houston-based distributor provides customers with innovative supply chain services, pump solutions, and MROP products and services.
DXP is also is an important player in the renewable energy market and helps its customers reach their goal of net-zero emissions through their technical expertise.
Jack Keough is the president of Keough Business Communications. He was the editor of Industrial Distribution for 26 years. You can reach him at john.keough@comcast.net.