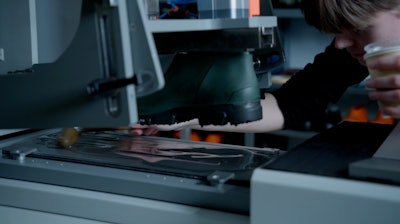 Designing a safety footwear program and selecting appropriate safety footwear to reduce accidents can seem overwhelming.
You may be asking yourself, "Why should footwear be prioritized as part of my safety program?" The answer: nearly one-third of all non-fatal workplace accidents are slip, trip or fall-related. Introducing or revising a footwear solution as part of your safety program may be your single best opportunity to reduce total accident rates.
We know how important it is to design our workplaces to enable workers to complete their daily work in a safe and healthy environment. We know that we need to keep our workspaces free from clutter and debris and to quickly identify and remediate any liquid or material spills. However, one of the most common and important control measures for reducing slips, trips and falls has nothing to do with the design of the workplace, and it seems to be discussed less often.
It's the footwear workers walk around in.
A footwear program tailored to the environment and tasks to be performed is one of the best tools to reduce slips, trips and falls. Standardizing the safety features your employees need to get the job done safely — and setting these features as requirements for approved footwear — will help you to keep employees safe and productive. This is often referred to as your footwear specification or spec.; having this specification defined will also help you compare different footwear options that will meet your needs. The sections that follow detail four important steps when creating your standardized footwear program.
Identify and Remove Hazards
The first task is to identify and remove hazards. This is done through a process known as "hazard assessment." The assessment begins with a walkthrough and survey of your facility to develop a list of potential hazards.
First, note the basic layout of the facility and any history of occupational illnesses or injuries. When looking for potential hazards, be sure to consider sources of electricity, sources of movement from machines or processes where impact is possible, sources of extreme temperatures, types of chemicals used, sources of harmful dust, sources of light radiation like welding areas, the potential for falling objects, areas with sharp objects, and biologic hazards. It is best to group any identified hazards into categories; traditionally, categories include impact, penetration, compression (roll-over), chemical, heat/cold, harmful dust, light (optical) radiation and biologic.
Once you have identified potential hazards, the next step is to eliminate or mitigate all hazards to the greatest extent possible. Remember: OSHA regulations require employers to ensure each affected employee uses protective footwear when working in areas where there is the danger of foot injury due to risks that cannot be avoided or limited. Identifying the need for personal protective equipment solutions is the last step in mitigating hazards.
Now that we have identified, reduced and eliminated as many hazards as possible, it's time to investigate footwear features and solutions that protect from the dangers identified during the hazard assessment. These may include a protective toe cap, protective midsole or chemical resistance, to name a few.
Select for Slip Resistance
Slip resistance is one of the most important considerations. Slip-resistance comes from the sole and heel of the footwear and is measured as a coefficient of friction. Many footwear options carry a slip resistance certification, but not all "safety" footwear is slip-resistant. Be sure to check the markings on the boots you are considering.
There are multiple global standards for slip resistance, but the most common are EN and ASTM. While both standards are considered robust, there are some differences. The ASTM standard is a single test protocol and standard with a forward and backward motion. The EN standards require the coefficient of friction to be measured using forward direction in two different conditions (flooring and contamination) and multiple contact angles; three certifications can be granted.
EN: Footwear tested to EN ISO 20344:2004 (A1: 2007) may be marked SRA (tested on ceramic tile with diluted soap), SRB (tested on smooth steel with glycerol), or SRC (tested under both conditions).
ASTM: Footwear tested to ASTM-3445-21 may be marked SR.
You will also need to select footwear with a sole that aligns with your work and environment. For example:
In wet environments, you may look for a close-packed, well-defined pattern in softer material on a flexible flat sole.
For mixed and/or loose solids, you may look for a more open tread pattern with wider channels and deeper cleats.
Icy environments may require spikes or studs to "bite" into the ice; however, be cautious: these additions may be slippery on other hard surfaces.
While slip resistance is one the most important considerations to make when selecting footwear options, it is not the only consideration. The company that manufactures the footwear can also have an impact on your footwear program. No one wants to go through the work of designing a robust footwear program only to discover that the manufacturer cannot keep up with supply, does not have a consistent offering, or worse.
A couple of things to consider when comparing manufacturers:
The time a company has been in business may be important. For example, a manufacturer with a long history provides confidence in expertise and ongoing product availability. A manufacturer with a strong new-product or innovation pipeline provides assurance that investments are being made in new technologies.
As environmental, social and governance initiatives continue to become even more important to

customers, identifying a manufacturer that invests in ESG platforms can help you to achieve your own ESG goals.
Engage Employees
Consult with employees throughout the process of choosing slip-resistant footwear whenever possible. If you are replacing an existing footwear program, be sure to ask employees what they like and dislike about the current footwear so these preferences can be considered.
It is a best practice to test new prospective footwear in the workplace where it is to be used and by the employees required to wear it. Commonly referred to as a "wear trial," this step significantly enhances understanding of the performance and lifespan of the footwear in your specific conditions. Your distributor or manufacturer's representative may be able to help you facilitate a wear trial at reduced or no cost.
Common questions to ask wearers include:
Does the footwear feel slippery underfoot?
Is the footwear comfortable?
Are you able to move freely as needed to complete assigned tasks?
Involving users in choosing footwear will increase its acceptability, adoption and daily use.
Instill the Program
Training, maintenance and storage should all be considered key elements of making your new footwear program part of your and your team's daily work. Information, instruction and training should be provided to ensure PPE is properly worn, maintained and replaced as necessary. Some protective footwear will include features, such as tread wear indicators on the sole, as a simple way to identify when slip resistance is no longer optimal and replacement is needed.
Nick Larkins is the director of trade marketing at Dunlop Protective Footwear.