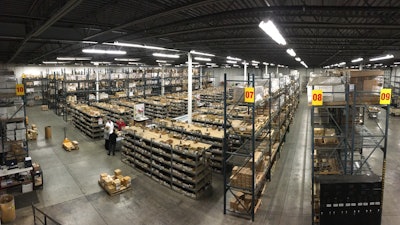 Mike Hockett/Industrial Distribution
Now 7+ months into it, the COVID-19 pandemic continues to force business leaders of all types to adjust to rapidly-changing operational challenges and needs of customers. Here, distribution supply chain expert Helgi Thor Leja — who has helped clients such as MSC Industrial Supply, Thermo Fischer Scientific, Milwaukee Tool and others improve their supply chain operations — speaks with an executive at Valen — No. 14 on Industrial Distribution's 2020 Big 50 List — about how the industrial distributor has adjusted its distribution center operations in response to the pandemic's impacts on the company, its customers and suppliers.
Leja speaks with Alan Gosnell, who has spent the last 8 years leading the IT team at Sonepar-owned Vallen, the industrial products subsidiary of Sonepar, formerly known as Hagemeyer North America. At Vallen, he leads distribution center automation initiatives. Gosnell previously spent 28 years with an ERP/WMS software vendor, providing distribution solutions worldwide. He is a graduate of the University of South Carolina with a Masters degree in Management Science (statistics).
See their recent conversation below:
Leja: The industrial/electrical distribution space was greatly impacted by COVID-19. It has been the topic of many discussions in the past 5 to 6 months. Some companies thrived and some were hurt quite badly. As such, can you please share some internal insights into what your company was ready for (i.e., handled well or was considered a strength and even a competitive advantage)? Were there specific things you learned from the pandemic that has altered your goals in the short, mid, and/or long-term? Assuming so, what form of evolution do you see in your business from pre-COVID to new changes in the future?
Gosnell: We have great relationships with customers and vendors and these relationships kicked into high gear as we all adjusted to the COVID-19 impact. And our associates adjusted rapidly to the new working conditions. Those deep relationships provided the basis for us all — customers, vendors and associates — to collaborate rapidly to the changing business conditions. We had much of the inventory needed to respond to customer needs and were able to work our supply chain to provide the items which became in high demand in a short time frame.
Hardly any industry is left untouched by COVID-19 and we will see quite a lot of change across the business world. And as is often the case in such events, business plans are accelerated, and adjustments are necessary. And we are accelerating changes that were underway pre COVID-19 and are rapidly transforming our operations to leverage automation tools and technologies to help propel our performance now and into the future.
Leja: What strikes me about your comments, Alan, is the emphasis on your associates, customers and suppliers collaboratively working together. Since COVID-19, I have the impression that our clients feel like they "have to do it all" but your view really illustrates how integrated the supply chain is with your customer needs and associate engagement. Refreshing to hear this view.
And, as you noted, we are seeing approximately 75 percent of our clients acting quickly, yet still see 25 percent or so taking a slower, more pragmatic approach. One example is I recently spoke with a C-level executive of an incredibly large distributor and the comment was, "If companies are spending millions of dollars on automation because of COVID-19, they aren't being wise. We believe this will most likely be cured within 6 to 12 months anyway." Some merit to being pragmatic and there is a balancing act — capital vs. speed and then safety vs. survival/growth.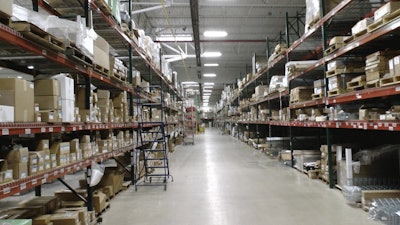 Leja: A follow-up question for you, Alan. Due to COVID-19, we have seen clients change their questions from "how do we lower our labor cost/dependence" to "how do we fully automate all labor out of our operations?" Some are being pragmatic while some are jumping "all-in" as it is deemed business-critical. What is your perspective on the competitive landscape specific to labor, potential new liability (e.g., some clients want to reduce liability tied to COVID-19), and how technology and/or automation (e.g., goods to person, robotics, touch-free processes, etc.) may play a role moving forward?
Gosnell: We are jumping "all-in" to move even more rapidly now to leverage automation tools and technologies to help propel our performance now and into the future. Cutting expenses alone will not lead us out of current challenges. We must be smart and think more about how to use existing and new tools and technology collaboratively with our associates to ramp up productivity and performance. And in the DC environment — yes — robotics and goods-to-person technologies are collaborative technologies we expect to leverage even more to help drive up our performance.
Leja: Alan, it struck me how quickly our clients/prospective clients changed their thinking. It went from a more casual approach to productivity improvements and labor reductions to "we must act now and act fast." The urgency increased 10-fold in a matter of one-month (mid-March to mid-April). The secondary follow-up question we are getting involves how best to design future operations so items including the six-foot social distancing requirements, physical barriers (e.g., plastic shields to separate operations), shift adjustments (e.g., staggered lunch breaks, etc.) are incorporated. All of these add a layer of complexity and deeper thinking to facility flow, layout and meeting the ever-changing demands of customers.
I asked one of our key strategic partners – Argon & Co. (formerly Crimson & Co), a professional services firm that specializes in supply chain and DC design to share some thoughts about how DC design in 2020 has changed as a result of COVID-19. Bruce Strahan (CEO – North America) shared the following:
There are a few areas in DC where we are advising our clients to consider different approaches. During my entire career, minimizing space has been an important objective. At $75 to $200 per square foot, that goal seemed logical. Now we wished we had more flexibility to spread people out, in the operation, and in the office.
Slotting rules for picking are changing this year. In the past, we wanted to concentrate the area volume to create better-picking density, and now we want to more evenly spread the volume to lessen people concentrations in aisles.
Instead of large centralized common break areas, we are now designing smaller distributed spaces, including outside open air.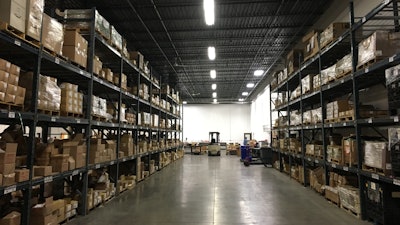 Bruce continued, "We all hope that the drivers for these changes are a once in a lifetime need, although some of what we are learning may bring workplace benefits beyond COVID-19 prevention. And certainly, robots and other automation options have never been more popular."
In addition, through conversations with another one of our strategic partners, Evan Danner, CEO of TZA shared that "TZA is now assessing labor strategies differently and adding in (or layering in) new solutions for these new challenges. Engineered standards are evolving and so are the designs for DCs."
In summary, the message from clients now is simply, "give us more high-end automation, limit our labor and exposure to liability (even eliminate all or most labor) and provide us with greater operational capabilities that allow us to safely, quickly and efficiently distribute to our end-customers." Associate liability has been leading the momentous changes underway.
Leja: One of my favorite quotes is "a pessimist sees the difficulty in every opportunity; an optimist sees the opportunity in every difficulty." Knowing you to be an optimist, what specific opportunities do you see either within your competitive market or in the broader supply chain/distribution landscape across all markets?
Gosnell: The existing COVID-19 work is ever-evolving, and the post-COVID-19 world is still an untold story. There are lots of changes yet to be understood and rationalized. Some of us do not like change. Some of us thrive on change. Most of us live somewhere in between those extremes. I see opportunity in every change.
Sometimes you must look harder than others to find opportunity in change. Change unleashes creativity and often presents a conduit to propel rapid adaptation of new methods and processes. That is where I live and am now looking under every rock and around every corner for nuggets of intel regarding new technologies and best practices to bring to our business leadership as ideas to help drive up performance.
Leja: Great insights, Alan. As noted earlier, we are seeing about 75 percent of our clients thinking and acting like you and the Vallen Team. We have engaged with Clients and completed more projects involving robotics the past 2 years than in the past 10 years preceding this. Like you, I believe the companies that make the right decisions after weighing in all factors will be the winners in this race. The pragmatic view of waiting 18 months has merit — we can't discount that, but if this virus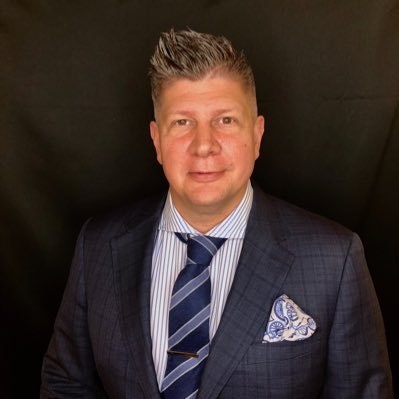 (and future viruses) continue to add stresses, those who invested in the right technologies and automation will clearly distance themselves from their competitors. And I am happy to see you and the Vallen team are all aggressively looking at answering the right questions for your business.
Helgi Thor Leja is a Senior Director with Distribution Performance Solutions (DPS) and works with leading Distributors to drive supply chain improvements that result in top-line growth and bottom-line efficiencies. Helgi has helped Clients including Tech Data, Thermo Fisher Scientific, Intcomex, Milwaukee Tool, Moen, Avnet, Vallen, and MSC Industrial Supply Industrial deliver on their business case for change. In Leja's 27-year career, he has held positions leading day-to-day distribution operations as well as consulting with clients to improve their supply chain operations. He has been a featured speaker at NAW, CSCMP, ProMat, SCEDA, and MODEX and frequent contributor to Industrial Distribution. He has been featured in numerous articles and publications, as well. Leja has a B.S. in Financial Management (International Finance) from Clemson University and a M.S. in Management (Operations and Production Management) from Georgia State University's J. Mack Robinson College of Business.