We're excited to provide the readers of Industrial Distribution with the results of our 69th Annual Survey Of Distributor Operations. The objectives of this report, as always, have been to understand the most critical issues affecting distributors, and to provide data to help drive their educated business decisions. Through these findings, we'll discuss new and ongoing industry trends and what trends have fizzled. How has the ongoing industrial recession impacted distributors? Read on to find out.
In this online final online installment, we focus specifically on Employment, which identifies hiring and layoff trends, recruitment and compensation.
According to the U.S. Bureau of Labor Statistics, the U.S. unemployment rate ended 2014 at 5.6 percent and closed 2015 at 5 percent — the same mark this past March ended with. While that's an encouraging sign for the American economy and labor force, it's a different story in the industrial sector.
Many companies — not just distributors — will tell you they are only as good as their employees, or that their employees are their No. 1 asset. With sales and profits down across the industrial manufacturing sector, some distributors have had to make the tough decision to reduce employee headcount as part of reducing operational costs. This was apparent in our survey results, as the amount of respondents who said their company has had to reduce staff in the last 12 months increased by 8 percentage points from 2015 to 22 percent (Figure 1). Adding to that:
Those who anticipate having to reduce staff in the next 12 months increased 3 points to 7.9 percent
Those who have added staff over the last 12 months dropped 6.3 points to 46.6 percent
Those who expect to add staff in the next 12 months dipped 4.5 points to 23.6 percent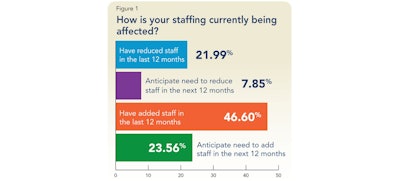 So when distributors have to downsize headcount, where are those reductions being made? Our survey says those in administration positions had a rough 2015 (Figure 2). Asked where reductions were made (checking all that apply), those who chose administration increased a whopping 28 points from last year to 42.7 percent. Next in line was warehouse staff, up 6.8 points from 2015 to 39 percent. Operations staff had a 3.4 point rise to 24.4 percent, while there was an 8.7 point rise in clerical positions reduced (22 percent). Not even salespeople were immune, as there was a 3 point increase in cuts there (20.7 percent), while cuts in customer support increased 7.4 points to 17.1 percent. The only position our respondents said had a smaller staff reduction than last year was in clerical, where cuts were down 7.5 points to 22 percent.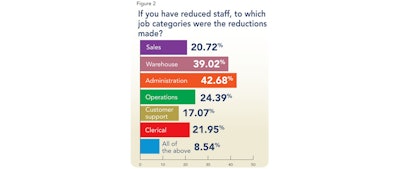 On the flipside, those fortunate enough to add staff most likely added it in sales. An identical amount of respondents who added staff — 65 percent — added salespeople. Like the past few years, sales was the top choice by a large margin. Here's how the rest of the staff additions were made, according to our respondents:
Warehouse: Up 1.4 points to 41.67 percent
Customer support: Up 3.5 points to 35.6 percent
Operations: Up 1.7 points to 30.3 percent
Administration: Up 0.6 points to 19.7 percent
All the above: Down 7 points to 9.1 percent
Clerical: Down 1.5 points to 7.6 percent
Surprisingly, the amount of respondents who rated the importance of hiring technically trained employees as very important actually decreased 4.4 points from last year to 56.7 percent, while the amount who chose somewhat important increased 3 points to 38.7 percent. Looking specifically at sales reps, only 37.8 percent of respondents said their distributorship added reps in the last year, a 13 point drop from 2015. The amount who now have less reps increased 5.4 points to 15.5 percent, while most our respondents — 46.6 percent (+7.6) — said their count stayed the same.
A number of manufacturing and distribution associations have increased efforts to educate and raise awareness of careers in industrial distribution, but according to our survey, a large portion of distributors are still having a hard time finding qualified employees (Figure 3). More than 39 percent of our respondents say they are typically unable to find suitable job applicants for their company, a 4.4 percent increase over 2015. Asked to rate their ability to qualify and recruit, respondents lost some confidence compared to last year. Sixty-two percent rated themselves as good or better, down 7 points from 2015. Thankfully, the amount of respondents who rated themselves as poor has steadily decreased over the years, falling from 7.2 percent in 2014 to 5.7 percent this year.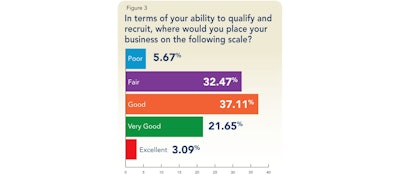 To keep their employees happy and prevent them from leaving, pay raises continue to be our respondents' top method when asked to choose all that apply. Seventy-two percent of them say higher pay/pay for performance is their top tactic, down 3.2 points from last year. Improving benefits had a 5.3 point increase to 59.8 percent, while training was the No. 3 choice at 54.2 percent, down 8 points from last year.
Looking closer at benefits offered, nearly 88 percent of respondents say they offer health insurance (down 5.6 points from last year), 71.4 percent offer bonus/compensation programs (+8.1) and 70.9 percent offer 401K/pension (-7.9). Two of the other benefits that saw the biggest changes were in sales performance reviews (-12 to 39.7 percent) and flexible hours (+9 to 36 percent). Thankfully, only 9.3 percent of our respondents said they've had to reduce their employees' benefits over the past year, down 3.5 points from a year ago.
Want to compare this year's results to last year? See our 2015 survey here.
Methodology
The results of this study are based on an email survey sent to Industrial Distribution subscribers. Recipients of the survey were offered an incentive to complete the questionnaire. Industrial Distribution's subscriber base is comprised of 30,000 readers, the majority of whom identify as executive, upper management, sales or sales management. Results are based on a pool of respondents within this subscriber base.
Because Industrial Distribution transitioned to a new publisher in 2010, no survey was conducted that year. Therefore, results which track comparisons over the past decade will reflect a gap between 2009 and 2011.
Comments on this year's results? Email ID's editor, Mike Hockett, at [email protected]