We're excited to provide the readers of Industrial Distribution with the results of our 69th Annual Survey Of Distributor Operations. The objectives of this report, as always, have been to understand the most critical issues affecting distributors, and to provide data to help drive their educated business decisions. Through these findings, we'll discuss new and ongoing industry trends and what trends have fizzled. How has the ongoing industrial recession impacted distributors? Read on to find out.
In this online segment, we focus specifically on Best Practices, which sheds light on distributor relationships with suppliers and customers, as well as their global business plans and what challenges are involved.
Just as a quarterback's on-field performance is often only as good as his receivers in football, a distributor's performance is often only as good as the suppliers it partners with.
In the industrial sector, many distributors have kept the same supplier partners for generations. As a result, the Supplier Best Practices section of our survey tends to be the most consistent year-to-year. But perhaps related to the tough market since the start of 2015, this year's totals showed more variation than those in the recent past. To help navigate these times of weakened product demand, distributors can look to continue market share gain through new strategic supplier partnerships or in some cases, reducing reliance on lesser-performing ones.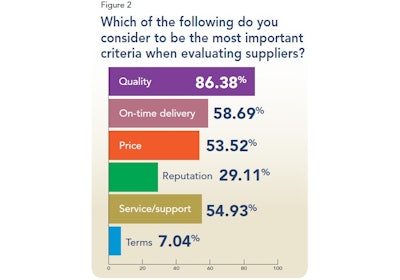 To no surprise, quality again reigned supreme when we asked our audience which criteria (choosing up to three) they consider the most important when evaluating suppliers (Figure 2), chosen by 86.4 percent. It had a 1.6 percentage point gain from 2015, snapping a trend of decline from 89 percent in 2012 down to 84.8 percent a year ago. On-time delivery once again came in second for this question at 58.7 percent, but dropped 4.3 points from a year ago and has dropped 7.7 points from 2014. Service/support was third at 55 percent, dropping 7.7 points after jumping 8.6 points a year earlier. Price was also chosen by a majority of respondents, taking a 3 point dip down to 53.5 percent. Overall, the top four criteria from last year repeated in the same order, with quality being the only one to increase. Reputation held steady at 29 percent, while terms again rounded out the criteria at just 7 percent.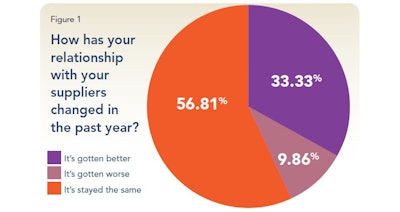 Over the years, respondents have indicated that the state of the relationship between distributors and suppliers has been consistent, and it was the case again this year (Figure 1). Like in 2015, one-third of respondents said their relationship with suppliers has improved, while those that said it has worsened dipped by 1.3 points to 9.9 percent. Likewise, the amount of respondents who said the level of support they've received from suppliers has stayed the same over the past year grew by 4 points to 54 percent, while those who said it's improved dipped 2.7 points to 26 percent. Overall, distributor-supplier relations have held steady.
As expected every year, the vast majority of respondents — 81.6 percent — said suppliers have increased prices over the last year, but that's down 5 points from last year and 7.2 points from 2014. Incremental price increases are always expected due to inflation, but the decline shown in the amount that raised prices could be tied to enticing distributors to continue their level of reliance during times of weakened product demand. It will be interesting to see if this number goes back up in next year's survey if conditions have improved by then.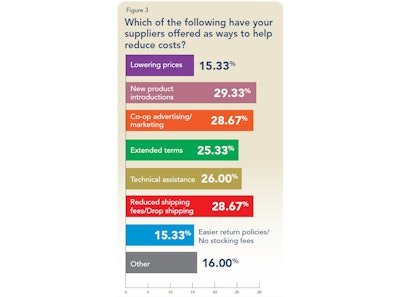 Though less suppliers have apparently increased prices, that doesn't quite explain the significant dropoff in ways respondents indicated suppliers worked with distributors to offset business costs (Figure 3). Last year more than 44 percent said suppliers helped with new product information, but that figure sunk 15 points to 29 percent this time around. Nearly 29 percent said suppliers have helped with co-op advertising/marketing, a 6.7 point decline. Suppliers offering technical assistance dipped 3.3 points to 26 percent, while suppliers offering easier return policies/no stocking fees — always a small amount — also had a 4.5 point slide to 15.3 percent. The only areas respondents said suppliers increased to offset costs were in extended terms (up 4 points to 25.3 percent), and lowering prices (up 2 points to 15.3 percent). Reduced shipping fees/drop shipping held steady at 29 percent of suppliers. The decreases in assistance offered are likely related to suppliers themselves having to cut costs.
In 2013 we started asking respondents if their business installed or maintained vending machines at customer locations. The amount that do dipped 2.5 points from last year to 27.4 percent, a bit of a surprise given how that figure steadily climbed from 22 percent in 2013 to 30 percent a year ago. Of those that said no, only 14.6 percent of respondents said they plan on offering vending machines in the near future.
Our Best Practices portion finished asking about global business intentions, the amount of respondents who said their company conducts business outside the U.S. grew 2.3 points from last year to 52.2 percent. This comes after a 5-point drop from 2014 to 2015. This correlates with a 3 point decrease in the amount — 37 percent — who said they have no plans to expand globally.
Want to compare this year's results to last year? See our 2015 survey here.
Methodology
The results of this study are based on an email survey sent to Industrial Distribution subscribers. Recipients of the survey were offered an incentive to complete the questionnaire. Industrial Distribution's subscriber base is comprised of 30,000 readers, the majority of whom identify as executive, upper management, sales or sales management. Results are based on a pool of respondents within this subscriber base.
Because Industrial Distribution transitioned to a new publisher in 2010, no survey was conducted that year. Therefore, results which track comparisons over the past decade will reflect a gap between 2009 and 2011.
Comments on this year's results? Email ID's editor, Mike Hockett, at [email protected]