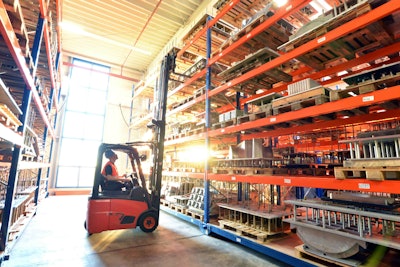 This article originally appeared in Industrial Distribution's 2016 January/February print issue. To view the full digital edition, click here.
In January 2012, Industrial Distribution premiered its Watch List in an effort to shine light on the kind of distributor that might not make our annual Big 50 List. Some of these companies are too small; some don't fit into the traditional MRO niche that The Big 50 has carved. Yet this series of short profi les takes a look at the "ones-to-watch" outside of the 50 biggest MRO distributors – notably those that are taking steps to improve operations and grow their business through acquisitions, training and development, product line expansion, or other best practices.
Here's Part 2 of the List. Part 1 is here.

Scott Industrial Systems
Dayton, OH-based Scott Industrial is a full-line fluid power distributor, offering expertise in hydraulics, pneumatics, electronic control systems, and repair. In addition to distribution, the company designs and manufactures power units and test stands.
Scott Industrial assembles and tests cast iron and aluminum gear pumps and motors, and assembles mobile valves, offering shipping within 48 hours of order on both services. The company's service department is an authorized warranty repair center for many of its suppliers, repairing in-house as well as offering fi eld service. Family-owned since 1948, Scott Industrial has 85 employees servicing Ohio, Indiana, Kentucky, West Virginia, Tennessee, and western Pennsylvania.
2015 was a year of dynamic growth for Scott Industrial Systems. On July 31, it cut the ribbon on an 18,000 square foot expansion to its production and warehouse area. The company also added an engineering lab for its electronic controls programming, setup, and test. Scott Industrial has doubled its engineering staff over the last three years to accommodate increased customer demand for complete technical solutions.
Along with adding a fourth test stand, the company added inventory in 2015 and dedicated a test stand for aluminum gear pumps and motors.
"We are a successful, independently-owned distributor in a world of huge conglomerates," says Christy Logan, President of Scott Industrial Systems. "We have doubled our business over the last 15 years and are working to double again in the next five. I attribute our success to hiring and retaining talented employees and expanding our capabilities to meet our customer's needs."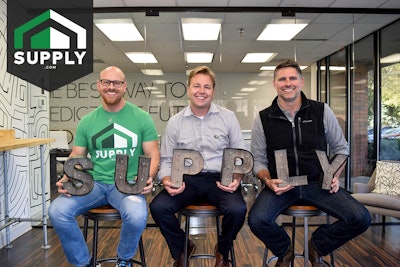 SUPPLY.com
A lot of people in the industry may still know this company by its former name: National Builder Supply. After seven years as NBS, it rebranded as SUPPLY.com this past November to reflect the company's rapid growth and evolution in recent years in serving home owners and trade professionals. The company now describes itself as "A privately-held e-commerce and distribution company dedicated to revolutionizing the historically traditional plumbing supply industry."
The growth numbers are staggering. SUPPLY.com has quadrupled its revenue in the last 5 years, bringing its 2015 sales to $72 million. As of late December, the company added 56 people in 2015, bringing its full-time headcount to 106. SUPPLY.com added more than 17,000 square feet of warehouse space last year, along with 15 direct brands to its online catalog. The company's 120,000 square foot distribution center and warehouse are located just outside of Atlanta, GA, where it stocks more than 300,000 SKUs.
"Our ability to provide our customers with personalized service and online tools is what has fueled, and will continue to fuel our growth," says Carey Tucker, SUPPLY.com Content Strategist. "As a result, we're growing our inside sales team to take care of our customers, improving our technology tools to make their lives easier, and expanding our category offering to help them get everything they need to get the job done."
Each SUPPLY.com PRO customer receives their own account manager. That means that a customer will always work with the same account manager instead of repeating the same information each time they call in.
The company felt its previous name limited it to only the builders customer segment, whereas SUPPLY.com gives it a stronger brand authority, allows it to expand its product offering, and help it compete with competitors like Home Depot, Build.com, and Amazon.
"We're confident that SUPPLY.com is a name we can grow into, and most importantly, a name that trade professionals can trust," says CEO Marcus Morgan. "We're putting the pieces together to build a billion dollar business, and we needed a billion dollar brand to do that."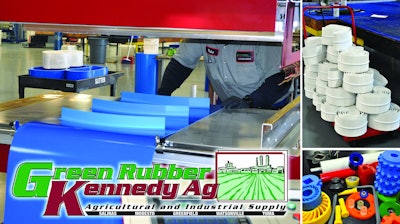 Green Rubber-Kennedy Ag
Family-owned Green Rubber-Kennedy AG (www.greenrubber. com) is a full-line distributor of numerous industrial supplies, with its largest focus on hygienic conveyor belt fabrication for the fresh food processing industry. However, the Salinas, CA-based company also supplies products for all aspects of food production and other industries, including hoses, safety supplies, power transmission products, spray and fertilizer products, pumps, storage tanks, and more.
"We like to think we cover our industry from the seed to the fork," says GRK Vice President John Green.
Green's father (also John) founded Green Rubber in 1990 out of a single small warehouse in Salinas with three people. In 2003 it combined with Kennedy Bros., which also started in 1990 with a four-person team. Today, the combined company has six locations throughout California and Arizona, with more than 100 employees.
"We believe our dedication to unmatched customer service has been the catalyst for our rapid growth and success in our industry," Green says. "We treat our customers as partners, and they know that when they contact us, we will provide them with solutions and suggestions that benefit them in the long-term, and that we aren't just trying to sell them a quick fix."
GRK's recent focus has been on investing in food safety, and more hygienic methods of product delivery. This is especially true in the company's belt shop, where significant investments have been made in equipment that operates more cleanly and efficiently.
GRK has implemented increased hygienic standards in its production facility, and has even completed the transition to solar power at its Salinas headquarters and facilities.
One of Green Rubber-Kennedy Ag's newer divisions – Urethane Casting and Manufacturing – makes a wide array of specialty parts for the food industry.
The company also recently purchased a fully-equipped machine shop, which now produces the tooling and molds used in the urethane shop, along with numerous other parts. Even more recently, GRK added a welding and fabricating division that now allows the company to make and install some of the spray and fertilizer parts it previously only sold as spare parts. It also designs and builds equipment used in the belt shop and other parts of the company.
Those newer divisions have helped GRK become more of a one-stop-shop for customers, has helped cut overhead on items it previously outsourced, and given the company full control over quality control and delivery times.