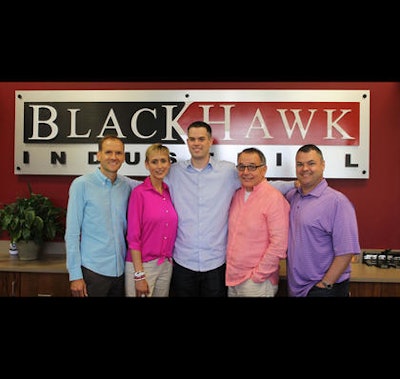 This article originally appeared in the July/August print edition of Industrial Distribution. To view the full digital edition, click here.
If you visit BlackHawk Industrial's "BaseCamp" in Broken Arrow, OK trying to find CEO Bill Scheller, don't look for a guy in a business suit. Instead, expect to find the company's leader clad in a casual button-up golf shirt and sandals and happy to share his business vision.
Scheller is a reflection of the culture he's instilled at BlackHawk, where a 'relaxed, but serious' atmosphere now encompasses 800 employees, just six years after Scheller himself was its first employee. Previously serving as the CEO of ORS Nasco for 10 years, Scheller has led an aggressive buy-and-build business strategy that has turned BlackHawk into a $450 million industrial distributor with no intentions of slowing down. Be it with activities such as warehouse scavenger hunts and ping-pong tournaments at BaseCamp's warehouse, or encouraging all locations to pick a branch activity to do each month, or bringing the entire sales force to the company's annual Summit, Scheller and BlackHawk have powered the rapid growth hand-in-hand with a unique culture.
"Work is important, but you want to work with people you can mutually respect, and having activities that builds comradery encourages that." Scheller says. "We try to hire that way."
Webinar: Managing the Digital Transformation in Distribution
Scheller started BlackHawk in the summer of 2009 and it made its first acquisition in October 2010. The acquisition total is now up to 25, with the most recent being Denver, CO-based Jarvis Supply Company, announced July 10.
Likewise, BlackHawk has climbed its way up Industrial Distribution's annual Big 50 List. After first appearing in 2011 at No. 47, the company jumped to No. 33 in 2012 with $260 million in revenue, was 30th in 2013, and checked in at No. 29 last year with $350 million in sales. BlackHawk's 2014 revenue looks to gain it another 1-2 spots on ID's 2015 list, which will lead the September/October issue.
Buying In To 'One BlackHawk'
Throughout that growth, the executive team at BlackHawk has been tasked with implementing its core values and culture at each acquired location. "It's a true mixture. Some people are very welcoming and open to change, but because of the pure number of our acquisitions, everybody has a history of doing things a different way," says Heather Riggs, BlackHawk Director of Supplier Development. "It's not always easy. Some of the locations have that warm fuzzy feeling right away, and others are more cautious and are taking a little more time to adapt."
Upon an acquisition, BlackHawk assigns a Core Value Leader to lead the culture events within the new location. This key role is given to someone who has perked to the top with a personality keen to become involved. "Traditionally it's not the general sales leader, who is usually that button-down-shirt type of person," Scheller says. "This Lead also aids the general manager in implementing our nine core values across all of BlackHawk, which is a huge focus for us. Advocating and maintaining our core values brings positive results. As the essence of BlackHawk's identity, they support the vision, shape the culture, and reflect our company's values. It is this underlying competency that will help BlackHawk improve every day."
The Core Value Leader is established within the first six months of an acquisition, along with a unique wall mural in the entryway of the location – something depicting the spirit of that branch and the people who work there. Each location is given a monthly budget to plan events based on input from their local team. Regular Core Value meetings are also established within each branch by the general manager to continue to focus and train on these efforts.
"We don't want to dictate what each location thinks is engaging," Riggs says. "That's more corporate, like, 'this is what you should do today.' That's not who we are. We try to do as many team-building events as possible to help employees become more of a family. Not everyone has welcomed that 100 percent, which is fine. We're going to continue to live out what we want BlackHawk to be culturally and continue to improve it."
It's been quite an endeavor for BlackHawk to assimilate all its locations and employees into one vision or, "One BlackHawk," as the company names it. Most of the employees of acquired locations go from working for a smaller, local distributor to working for one with two dozen locations.
"I've worked for a big $4 billion company, and I've worked for a much smaller $70 million company," says Ian Hartman, who started as BlackHawk's Vice President of Supply Chain in March. "I thought moving from the bigger to the smaller company would be a step back, but it wasn't that way. Moving to BlackHawk, I think it's the best environment I've ever worked in. It's because we do the small things that don't take a lot of time or money."
At BaseCamp, those things include a ping-pong tournament, helping make shoes to donate to Africa, and an Easter egg scavenger hunt in the warehouse. "It took 15 minutes out of the day, but you should have seen the joy of them running around looking for eggs," Hartman says.
A key part of training and growing as One BlackHawk is its annual summit, which recently brought together 100 of its suppliers and 200 BlackHawk salespeople. The sports-oriented theme of "Game On" took place in March at the HardRock Hotel in Catoosa, OK, just outside of Tulsa. It was a significant improvement from BlackHawk's first summit in 2011, which included only 30-40 vendors in a speed-dating format.
For employees of acquired companies in attendance, the summit is an opportunity to meet more of their new BlackHawk family. "This year it was the first time some of the team from Packaging Inc. (acquired in Jan. 2015) and the rest of BlackHawk family met," Scheller says. "When we bought EF Bailey out of Seattle (in Dec. 2012), their orientation to BlackHawk was at the Summit 30 days after we acquired them. It's a lot of fun, and helps everyone understand what BlackHawk is saying, living, and breathing.'"
All On The Same Page
While BlackHawk has made 25 acquisitions since the fall of 2010, one of its biggest challenges is dealing with the multitude of communications and business systems used between all of them. Having two dozen branches with separate ERPs and email platforms simply won't work. Like the core value implementation, BlackHawk has a goal of getting a new acquisition on the same ERP and Cisco Voice-over IP system within 60-100 days. "It's a keystone of the One BlackHawk idea," says Stephen Burns, BlackHawk Chief Information Officer. "Then they can start collaborating with the rest of the staff, working with people without as much friction."
Getting everyone on the same ERP also allows BlackHawk to gather analytics across the company and put them to use – something it is now starting to harvest. "When we were on divergent systems, it was impossible to have any kind of data that meant anything," Scheller says. "Everyone called everything something different. Now that we have a common language and tools, the data is becoming extremely meaningful to us. Now we can tell you exactly what end user segment we sell into, how much of a product category we sell to what customers, in what geographic marketplace, by what sales rep, at what gross margin. That's never been a skill set that would come from a smaller distributor."
E-Commerce Overhaul
Scheller didn't divulge what percent of BlackHawk's 2014 sales were online, but he did allude to the fact that there is certainly room for growth. "I can tell you, it was insignificant," he says about the 2014 figure.
That being said, e-commerce is in the forefront of BlackHawk's aggressive go-forward strategy. Aided by the late March acquisition of online click-through product catalog system Cataleap – which came with Pioneer – as well as ecommerce experience from Packaging Inc., the company is working on an extensive new project plan to be launched in the fall. "We're working on a very large e-commerce rollout," Stephens says. "It is both a B2B and B2C website that allows us to do e-commerce over both channels as well as meeting what we've seen as a big market demand toward using e-procurement with manufacturer punch outs." BlackHawk wants customers to leverage its punch out catalog within their own procurement system or ERP by just shopping the BlackHawk website.
"We are not a Grainger that is using the web to sell MRO, or an MSC Industrial that sells to a smaller machine shop," Scheller says. "We're selling very technical products to very demanding end users that hire us for our in-depth product knowledge."
Whitepaper - E-Commerce: Unlocking Potential That Goes Beyond Sales
Scheller says BlackHawk's e-commerce vision is to create a custom shopping cart for their customers with only the products they want their employees to see, because that's what they're asking for. "It's a really unique B2B for a specific large customer," Scheller says. "That's what we're aggressively running after right now."
Expansion Method
As of the March 31 Pioneer Tool acquisition, BlackHawk has a physical branch location in 17 different states across the U.S. and Irapuato, Mexico. It has a strong regional presence in the U.S. northwest, midwest, and northeast. While it has smaller sales locations in states between those areas, Scheller knows there's plenty of room to grow in those physical gaps of the mountain states, California and the greater southwest, Texas, and the greater southeast. But it's not as simple as pointing to an area of the country and buying a distributor there.
BlackHawk addressed one of those gaps just recently with the Jarvis Supply (Denver, CO) acquisition.
"I look at the marketplace and say, 'I could probably triple the size of BlackHawk just by filling in the holes," Scheller says. "But it only takes one bad acquisition to bring you to your knees – culturally, financially, and process-wise. You have to make sure you're adding the right ones. We've looked at a lot, and have been very selective in finding the best distributors to join BlackHawk."
On The Horizon
BlackHawk has undoubtedly been one of the fastest growing companies in the industrial distribution market, achieving its current status in just six years and is still only now showing up on the radar for many in the industry because of the company's age. But if you ask Scheller, he hasn't been surprised by the amount of success. "From my perspective, it hasn't been fast enough," he says. "These folks within BlackHawk would cringe hearing that comment. But what has surprised most people, including me, is the quality of the businesses we've been able to acquire, and those who are interested in being part of BlackHawk."
At the Industrial Supply Association Convention April 25 in Cleveland, BlackHawk won one of ISA's top awards, the 'American Eagle Excellence in Industry Award,' in partnership with SGS Tool Supply. Scheller says that while the award itself is nice, it's the meaning behind it that was most rewarding.
"It's humbling; it's validation," he says. "To win this sort of thing in five years – it's not something we set out to do, but it's validation of what we've tried to build from the beginning."
What BlackHawk has achieved in its short time is remarkable in itself. But now that the company has almost everyone on the same operating systems, along with the new e-commerce platform coming in the fall, one could say BlackHawk is just now hitting its stride.
"There is a path we're on that will probably speed up and not slow down," Scheller says. "Because of that, I think we'll continue to attract quality people wanting to be a part of BlackHawk. We want to build something that you can't say no to joining."