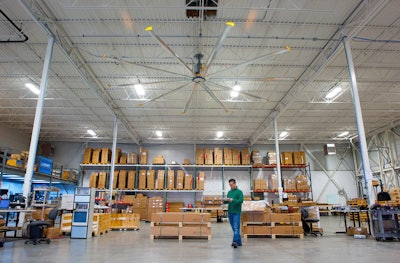 With more than 45 years of experience and expertise within the industrial thermal management field, Seifert MTM Systems knows what air movement can do in a big space.
When Logistics and Operations Manager Rob Granai wanted to bring energy costs down in his non-air-conditioned 19,000 sq. ft. warehouse full of air conditioners and heat exchangers in North Kingstown, R.I., he knew just where to look.
"I needed to find a fan big enough to put in our warehouse," Granai said. "And with a name like Big Ass Fans, I knew what I was getting."
In the winter, hot air from the warehouse's radiant heaters would congregate near the roof, leaving cold pockets at the workers' level below.
"Knowing what we know with thermal technology, which is what we deal with on a daily basis, the heaters in the building are poorly placed," Granai said of the heaters positioned in the upper corners of the warehouse. "And even when you crank the heat up to 80, the heaters were just pumping hot air straight into the ceiling."
Granai installed a 24-ft. diameter Powerfoil X from the Big Ass Fan Company® on the warehouse's 25 ft. ceilings to combat uneven temperatures and cold spots in the winter. "Literally, the first day that we turned the fan on —after 5 minutes — there was an instant temperature difference down at face level."
Seifert had been dealing with stratification, a building condition that occurs when hot air rises in spaces like Seifert's large warehouse. The air supplied by a forced-air heater or warmed by the hot surfaces created by a radiant heater rises to the ceiling, resulting in a significant temperature difference between the floor and the ceiling. In the colder weather, Big Ass Fans can destratify an area, sending warm air down from the rafters and reducing energy consumption by as much as 30 percent. A destratified space has only a slight temperature difference from floor to ceiling, creating a more energy-efficient area because less heat will escape through the walls and roof.
After the installation of the Powerfoil X, Seifert warehouse employees began shedding some of the heavier clothing they had been forced to wear, and Granai began thoroughly tracking energy bills. "I think that everybody was skeptical at the possible cost savings in the beginning, including me," he said. "I just didn't get it, but I've been proven wrong so far." Seifert has already saved 30 percent on gas bills compared to last year and is still making thermostat adjustments.
Granai will continue to collect data in the coming months. In July, the warehouse can get "toasty," he said. "I know about the temperature differences firsthand." Prior to the Powerfoil X installation, Seifert was using small, industrial floor fans. "No matter what we did, it was hot out there, period," Granai added.
In warmer months, Big Ass Fans improve occupant comfort through increased air movement. With the fans operating at 70 percent to full speed, the additional air movement creates a cooling sensation as a cooling breeze passes over occupants' skin. Employee comfort translates into safer and happier workers, greater productivity and less turnover. "No one wanted to work in areas of the building that were uncomfortable," said Granai. "This fan is motivation. We're really curious to see how this turns out over the next year.
At this rate of savings, the warehouse's Powerfoil X will pay for itself in a year. "I believe in this product," Granai said. "It's really good, and now the energy savings are on paper."