VPG Onboard Weighing, a brand of Vishay Precision Group, Inc., recently introduced the second generation VanWeigh axle overload monitoring system, its market-leading overload protection and load optimization system for light commercial vehicles.
Designed to fit any light commercial twin axle vehicle with standard coil or leaf spring suspension or air suspension, the VanWeigh system's user-friendly technology protects drivers and operators from weight infractions while providing per axle load distribution data to balance and maximise loads while reducing fuel consumption and vehicle wear and tear.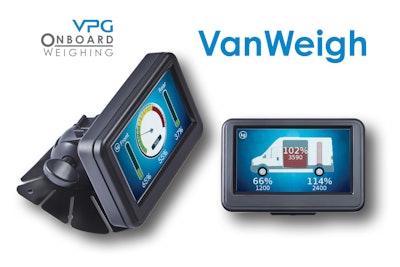 Gross vehicle weight (GVW) and per axle load information is displayed to the driver on an easy-to-use color touchscreen and its telematics output connects to GPS tracking systems. The new VanWeigh boasts improved GVW accuracy of better than ±2.5% within 90-100 percent of GVW, versus ±3% in first generation systems, and an audible alarm sounds if the total vehicle or axle weight maximum is reached.
This state-of-the-art second generation VanWeigh system, available in easy-to-install retrofit or OEM configurations, has no moving parts and is not susceptible to wear and tear or slipping out of calibration. It features solid-state sensors that monitor the deflection in the springs, complies with UNECE Regulation 10.05 on electromagnetic compatibility, and is four times more accurate than the original VanWeigh technology (measuring 80 increments for every one degree of deflection, up from the current system which measures 20 increments).