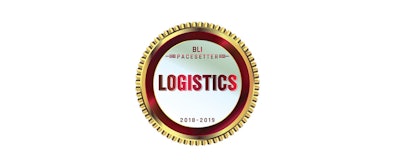 LAKE FOREST, CA — Keypoint Intelligence recognizes Toshiba America Business Solutions' innovation in document solutions for the logistics industry by presenting the tech innovator with a prestigious BLI PaceSetter 2018-2019 award for the Logistics market.
BLI PaceSetter awards recognize document imaging OEMs that have shown market leadership in a variety of categories, including Document Imaging Security, MFP Platforms & App Ecosystems, Mobile Print, and key vertical markets.
"Whether it's a dedicated shipping facility or the warehouse operations of a wider business, identifying and tracking all of the boxes that come in and go out is a Herculean undertaking," stated Jamie Bsales, director of solutions analysis for Keypoint Intelligence. "Toshiba's unmatched portfolio of thermal barcode printers, along with its traditional and industry-recognized MFPs, offer logistics customers a customizable system to tackle any task."
Toshiba industry-recognized e-STUDIO multifunction printer (MFP) and barcode printer line are designed and engineered to endure the demanding usage inherent within logistics environments.
A touchscreen overlay for dust protection, steel rails in paper trays, reinforced hinges on document feeders and doors are all key elements in shielding the e-STUDIO products during extreme use. Toshiba's Elevate customizable user interface, embedded within e-STUDIO MFPs, is another engineering innovation, which fulfills logistics employees' unique workflow needs.
Toshiba barcode printers deliver a similar blend of robust features logistics professionals should appreciate. The company's portable barcode printers' rugged design, IP54 dust and moisture protection as well as proven five-foot drop-resistant durability all help to ensure the printers' operation in severe settings. A metal frame and sturdy components enabling longer operation cycles in harsh surroundings underscore the value of Toshiba's industrial barcode printer line for today's logistics operations.
Toshiba MFPs and barcode printers' support of specialized shipping forms and labels also resonated with Keypoint Intelligence analysts. The company's e-STUDIO3505AC in particular prints Global Harmonized Systems or GHS (the global classification and labeling standard for chemicals) labels, which identify hazardous materials.
Toshiba's Ellumina digital signage also scored high marks in Keypoint Intelligence's PaceSetter analysis as the technology presents an ideal mode of communicating key information to personnel working in warehouses, distribution centers and on loading docks.
"The Toshiba team is excited to be recognized as the Keypoint Intelligence PaceSetter for the logistics marketplace," stated Toshiba America Business Solutions Chief Marketing Executive Bill Melo. "We design and manufacture products that tackle the unique document output and workflow needs logistics operations demand. Our e-STUDIO, barcode printer and digital signage suite of products deliver the elite level of performance required to satisfy this demand."