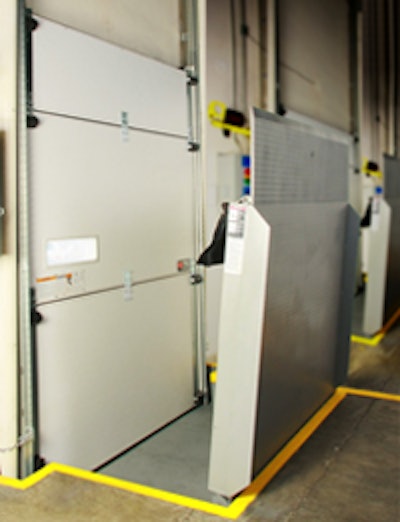 Sussex, WI - Answering the demand for a cost-effective and energy-efficient dock door for use in Vertical Storing Dock Leveler applications, TKO created the VertiCool door. More effective than a standard sectional door and less expensive than a Vertical Rise Freezer Door, the VertiCool provides superior energy efficiency at a lower cost of ownership, says the company. Benefits of the door include:

4" thick closed cell XEPS foam panel provides R-23 for superior thermal protection
48" high panels reduce the number of panel joints by 50% in comparison to industry-standard 24" high panels. Fewer panel joints ensure a better sealing door
Dual compression side seals are mounted to door panel and removed from impact zone when door is open, preventing seals from sustaining damage
Patent-pending, heavy-duty full opening height polymer thermal break track with 14 gauge galvanized steel guides
Polymer track wrapped with energy reflective foil fabric
Interior and Exterior panel skins to be constructed of .030" aluminum with an enamel finish
Dual overlapping header seal
Dual compression loop bottom seals
Unique heavy-duty fixed plunger reduces door maintenance
Available Wind Load option
For more information, please visit www.tkodoors.com.