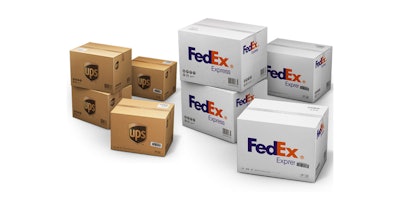 Parcel giants FedEx and UPS will include more packages under their surcharges for larger deliveries beginning next month.
FedEx currently levies a $10.50 per package surcharge for FedEx Ground shipments between 60 inches and 108 inches long, but beginning June 1, the company will reduce the lower limit to 48 inches.
The new limits apply to shipments within the U.S. and from the U.S. to Canada; all other surcharge parameters will remain unchanged.
The following week, UPS will impose the same standards on UPS Ground packages in the U.S. The surcharge will also remain at $10.50 per package.
UPS said on its website that the change was made due to "the additional handling required for these types of packages in the UPS network."
Reports indicated that both companies are increasingly delivering larger packages as customers do more and more of their shopping — even for heftier items — online.
"We are seeing a significant increase in non-traditional items now being purchased online, mattresses to new swing sets and big-screen TVs just to name a few," FedEx's Mike Glenn said during the company's latest quarterly earnings call.